As stitchers, we know how much time and effort goes into creating a beautiful needlepoint treasure: selecting threads and stitches, plying your needle to complete the project, and transforming the canvas into its final form. But what often gets overlooked is the proper cleaning – and maintenance – of a needlepoint piece to preserve its beauty so that it will be enjoyed for generations to come.
Of course, it goes without saying that we hope our prized needlepoint pretties never get soiled, but the truth of the matter is, accidents happen. That's why it's good to be up to speed on how to properly care for your needlepoint handiwork. (Please note that the information shared here is based on my personal experience as a stitcher and former shop owner. If you have a valuable piece of needlework, please contact a professional textile restoration/conservation specialist.)
A closer look at cleaning needlepoint…
Before you actually start the cleaning process, you'll want to carefully examine the piece for any loose threads, tears, or delicate embellishments (e.g., beads, silk ribbon, buttons, etc.). Remember to pay special attention to any areas that require extra care during the cleaning process so that you don't cause further damage.
There are three methods I recommend for cleaning needlepoint: dusting/vacuuming, spot cleaning, and overall cleaning with a mild cleaning solution.
Dusting and Vacuuming Needlepoint
The quickest – and least messy – way to clean needlepoint is by gently removing loose dust and debris from the surface using a soft brush or lint-free cloth. Lightly dust the piece, working in one direction to avoid snagging any threads or embellishments. For larger items, like pillows or wall hangings, you may also use a low-suction vacuum cleaner with a soft brush attachment to remove loose dust/dirt. Make sure that the vacuum cleaner's suction power is set to the lowest level to prevent pulling any threads.
The next two methods of cleaning needlepoint involve the use of water, so before we dive into them, let's take a quick peek at testing for color fastness.
Color fastness in Needlepoint
When an item is color fast, that means the dye used to "color" the item will not fade or run when the item is exposed to water. Needlepoint thread is our biggest concern because not all thread is color fast.
So, how can you tell if a thread is color fast? Here are a couple of tips for you…
If you have leftover thread from the project, soak a piece – at least 2″ long – for at least eight hours in a bowl of lukewarm water. The dye will release into the water during that time if it is going to bleed. (Note: You will want to do this for each kind of thread used if you are doing an overall cleaning of the piece. If you are spot cleaning, you only need to test threads used in the area you will be cleaning.)
As an extra precaution, it's a good idea to take the wet thread and place it between two white paper towels, then press it with an iron using the steam setting. If it's going to bleed, this will make that happen – and you'll be able to see it on the paper towels.
I know that seems like a lot of work just to get ready to clean a piece of needlepoint, but when you think about how much time – and money – you've already invested, you'll realize it's well worth the extra effort.
Quick Color Fast Testing Method
If you don't have extra thread that you can test to complete the steps listed above, use a cotton swab dipped in water instead. Gently dab the cotton swab over a single color on your needlepoint. If any color transfers to the cotton swab, do not use water to clean your project. (Note: you will need to repeat this process for every color on your piece.)
You may proceed with spot cleaning or overall cleaning if your color fast testing passes muster. 🙂
Spot Cleaning Needlepoint
If your needlepoint has isolated spots or stains, you'll want to address each one individually. I prefer to try club soda first; it has to be "fizzy" to work. Use a cotton swab – or a cotton ball – to dab the club soda on the soiled area. Then, blot with a clean, dry white cloth. You may need to repeat this step multiple times because you do not want to drench the area.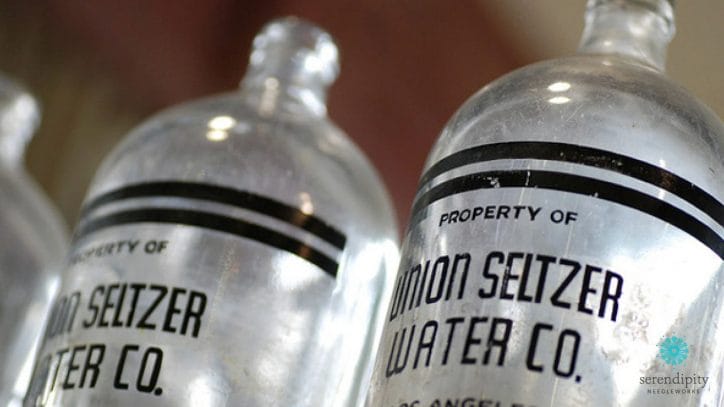 If club soda doesn't do the trick, you may want to use a cleaning solution. Before you use any cleaning solution, though, you need to test it on an inconspicuous area of your needlepoint piece so that you don't inadvertently damage it. When you're confident that the cleaning solution is safe to use, apply a small amount onto a clean, white cloth and blot the stained area very gently. Use another clean, dry white cloth to absorb excess moisture from the needlepoint. Remember – you are trying to "lift" the grime.
Please, please, P L E A S E – do not rub or scrub the needlepoint, as that may cause the colors to bleed or the threads to loosen. (And then you'll have a whole new set of problems with which to deal. Yikes!)
Should spot cleaning not work, you will need to clean the entire piece… and that's what we'll talk about next time.
That – and maintaining your needlepoint treasures.
Do you have any special tips for cleaning needlepoint? We'd love to know about them, so please share them down below. 😉
Okey dokey, that's all for now, my friend!
Thank you ever so much for stopping by. I hope you have a fantabulous week and I'll see you again soon.
Until then, happy stitching!
XOXO!!