Well hello there, lovely! It's so nice to have you here with me today.
Can you believe that next Wednesday is the first day of spring?
I'm so, sooo glad, too! I just love it when everything starts to bloom and grow. The trees in my yard are beginning to sprout tiny little leaves and that sparked an idea. Whaddya' say we have some fun with stitches and threads for the season? You know – colorful flowers, bright green grass, and sparkling blue skies, just to name a few.
And since the grass is starting to turn green here…
we'll start with a stitch for grass on your painted canvases. The Bellingrath grass stitch is really simple, but it's a medium size stitch so you'll need plenty of space to establish the pattern. It's also a straight stitch, so you'll need to use thicker thread (or more strands) than you normally would use if you want full coverage.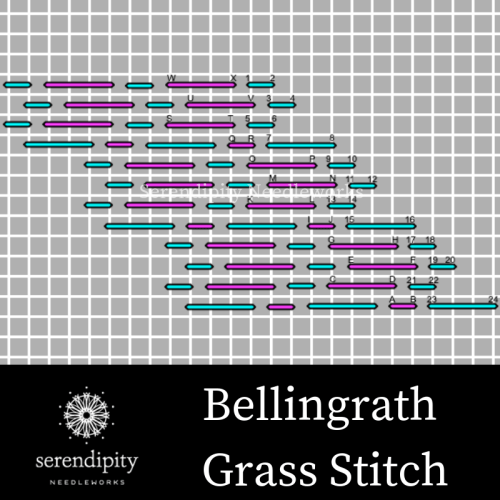 For example, a single strand of Silk and Ivory on 18 mesh canvas would work quite well. Or you could use 6 – 8 strands of Splendor on 13 mesh. If you plan to use multiple strands of thread, be sure and use a laying tool. Straight stitches like this one are much prettier when all of the strands of your thread lay smoothly on the surface of your canvas.
The diagram above shows the order in which you should execute the steps of this superb stitch for grass.
Start at the top right edge of the area you wish to cover and work the first blue vertical row. Three short stitches pair with one long stitch to create the repeat for the row. When you get to the bottom of the area you're covering, it's time to work your way back up the pink row. This time, though, you'll work three long stitches and one short stitch.
Notice how the short stitches share holes with long stitches so that every time you make a short stitch, it sits right next to a long stitch – and vice versa. Use that little visual clue to help you keep the pattern straight in your head – and once you get the first two rows in place, you can fly with the Bellingrath Grass stitch.
Now, back to the different threads you can use on this stitch for grass.
You already know that you need to use thicker thread (or more strands of thread) if you want to achieve full coverage on your canvas. And if you want to let some of the artist's shading peek through your stitches, you can use just about any type of thread you want.
Some of my favorite threads for stitching grass are…
Splendor
Watercolours
Waterlilies
Rainbow Linen
DMC Cotton Embroidery Floss
Impressions
Planet Earth Silk
Pepper Pot Silk
Soie Cristale
Threadworx Overdyed Floss
If you'd like to watch me demonstrate the Bellingrath Grass stitch, be sure and tune in to this week's episode of Serendipi-TV on Thursday afternoon at 3:00 p.m. CDT. I'll be broadcasting live from the Serendipity Needleworks Facebook page.
And if you'd like to be able to choose the best stitches and threads for your projects, you might want to join me for the 1, 2, 3 Needlepoint Workshop. I'll share my step-by-step Needlepoint Success System with you and help you create your very own stitch guide for a painted canvas. Click here to join. (It's FREE, so you don't have anything to lose, right?! ????)
Before you go, I'd like to ask you a question…
What's your favorite stitch for stitching the grassy areas on your needlepoint canvases? I'd really like to know – and I'll enter your name into the drawing for a fun prize (on March 31) if you share it with me in the comments box below. Sound good? Terrific! I can't wait to hear from you.
Until next time, happy stitching!
XOXO!!!❤️