Stitch 23 in 23 is underway and we're having oodles of F-U-N!! (If you're not sure what I'm talking about, click here to read more about our fun-filled needlepoint event. 😉 )
Now, here's that recap of Stitch 23 in 23 Week 1…
We kicked things off on Monday, January 23rd with introductions.
Watch the video below and then introduce yourself in the comments. I'd love to "meet" you. 😉
On Tuesday, January 24th…
We chatted about your project!
What are you stitching today? Are you starting a new canvas – or are you finishing up something you've been working on for a while?
I'm making progress on this cute little canvas I'm stitching for Ruth – "I Love You to the Moon and Back". It's by @Apooregirlpaints and here's a fun fact for  you: Amy, the designer, used to be one of my customers when Serendipity Needleworks was a shop. 😉
When you stitch even a few minutes every day, it sure helps get the momentum going! If you share pictures of your projects that you're working on during Stitch 23 in 23, please add our special hashtag, #stitch23in23, to your post. That will help us find them easier. 😉
Moving right along, on Wednesday, January 24th…
we chatted about different magnifying devices and lights to make it easier to see your canvas.
Here's the video…
And on Thursday, January 25th…
I showed you how to make the serendipity stitch. It's a versatile little stitch that you can use on all kinds of design components, including baskets, bird nests, and tree tops. Take a peek at the video and try it for yourself! 😉
Friday, January 26th, was all about needlepoint designers.
Do you have a favorite designer? Some of the canvases in my stash include pieces from Colors of Praise, Pepperberry Designs, My Pink Sugar Life, Maggie and Co., and The Meredith Collection – just to name a few. 😉
If you don't have a favorite artist, perhaps there's a theme you find yourself drawn to – like landscapes or florals or birds? I actually tend to gravitate toward themes myself, instead of specific designers – and right now, I'm especially loving anything I can stitch for Ruth, our new granddaughter!
I have this Susan Roberts nativity stocking next up in the queue – gotta have it ready for Christmas this year…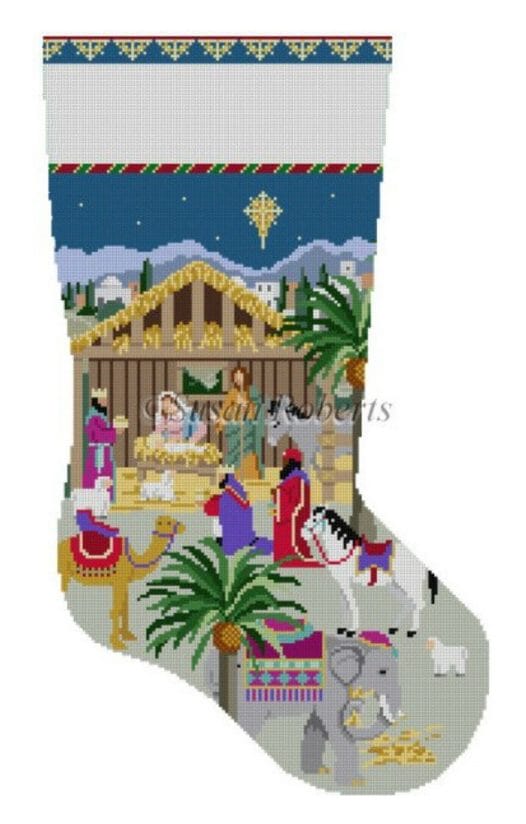 Which is it for you? A favorite designer? Or a favorite theme of canvas to stitch? Tell me in the comments below who your favorite designer is – or share a picture of a canvas you really enjoyed stitching!
And on Saturday, January 28th, I shared my needlepoint story.
So, there you have it, my friend… a recap of week 1 of Stitch 23 in 23! Be sure and check back next week for a recap of week 2 – and if you want to keep up with what's happening every day, check the Serendipity Needleworks social media channels here and here.
Until next time, happy stitching…
XOXO!!