French knots are, by far, my favorite stitch.
While the French knot is not "technically" a canvas embroidery stitch, you can definitely use it to add texture and visual interest to your needlepoint projects. 
You might think that this versatile surface embroidery stitch has deep roots in France,  but the only evidence that supports how the French knot got its name is that it was employed quite extensively in French royal and ecclesiastical embroideries during the eighteenth and nineteenth centuries. It appears that the name "stuck".
And here's another interesting factoid for you…
a true French knot actually has only one wrap of thread around the needle. Any more wraps and you have a bullion knot. (We'll talk about those another time. 😉 )
Here's the stitch diagram for you…
When working French knots, the old adage "practice makes perfect" really is true. The more you make, the better you'll get at it. If you want to watch me stitch some French knots, be sure to check out this episode of Needlepoint TV™.
And while we're on the subject of my YouTube channel…
that's where I host Needlepoint TV™ every week. We've been on a break this summer since I'm a new grandmother. (I've been helping Rebekah with the baby. 🙂 ) But we'll get back to our regular schedule soon. You might want to subscribe, if you haven't already. That way, you won't miss any new episodes.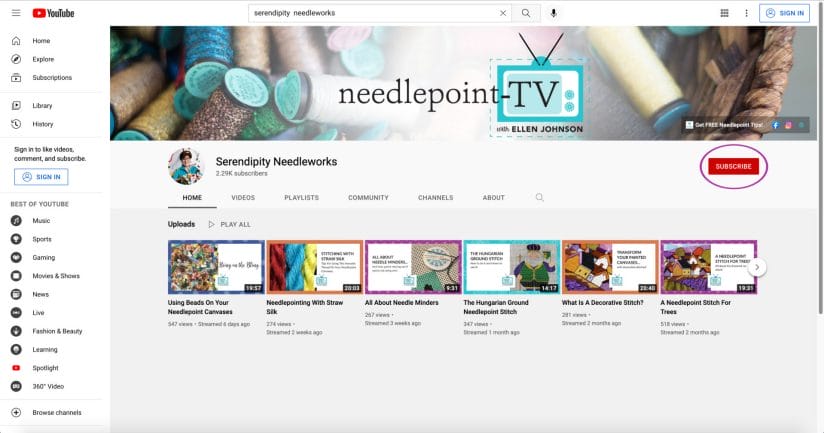 Now, back to French knots…
Do you ever have a hard time pulling the needle through when you're making French knots?
I'll bet you're using your tapestry needle to make your French knots, aren't you? The eye of a tapestry needle is larger than the shaft, so the wraps get "stuck" at the eye. And that – my friend – is probably why you have to tug on the needle. (Of course, you could also be wrapping the thread too tightly around the needle, so be careful about that.) 
The Colonial Needle Company has a wonderful tool that I think you're definitely going to want to try. It's called a bullion needle. Bullion needles come in sets of three different lengths. There's a "long" set and a "short" set.
I have both kinds and I find myself using the short needles more frequently. Note that you may also purchase bullion needles with a blunt tip or a sharp tip. For needlepoint, you'll want to get the blunt ones. Your local needlework shop ought to be able to order them for you, if they don't already carry them.
I typically work my French knots over a canvas thread or intersection so that the knot has a place to "sit".
Of course, you may also go back down into the same hole, but you'll need to be very careful not to pull your French knot through to the back of your work. 
A few of my favorite ways to use French knots on my needlepoint canvases are for hair, flowers, sheep, and as the white foam of ocean waves.
You can drastically change the look of this stitch by simply switching threads.
For instance, if you want to use French knots for the flowers on your landscape project…then silk or rayon thread would be a lovely choice. The exquisite colors available in both of those thread bases, as well as the beautiful sheen, makes either the perfect choice for creating a lush garden of blossoms.
And French knots also make terrific flower centers for larger flowers. If using them for the centers of sunflowers, you might consider using Fuzzy Stuff to mimic the highly textured disks.
But if you want to employ French knots for a frothy shoreline on your beach themed canvas, both Flair and Petite Frosty Rays would be terrific choices. Use Flair if you prefer a more subtle shimmer and Petite Frosty Rays if you want to add some sparkle to your piece. 
You may use French knots on any size mesh canvas.
Just remember that the thicker the thread, the larger your French knots will be. (The French knots in the picture above are silk ribbon.)
Conversely, the thinner your thread, the smaller each knot will be. For example, you might use Kreinik #8 Fine Braid as a substitute for beads on 18 mesh canvas when size 15 beads are too big.
Your imagination is truly your only limitation when it comes to embellishing a painted canvas with French knots! 
Alrighty, my friend – that's all for now. 
Have a terrific rest of your day and, until next time…
Happy Stitching!!
XOXO ❤️