Congratulations on committing to purchasing the best quality supplies you can afford. Now, it's time to take a look at making the best fiber choices for your projects. Since I want to address knitting/crochet and needlepoint/embroidery, it'll be easier to separate them into two different posts. That way, you'll have the information for whichever technique you prefer — or both, if you're a multi-crafter!
Info about choosing yarn (for knitters and crocheters) is below.
Stitchers, you can find tips for choosing the best fibers for your projects here.
Now, my friend, why don't you fix yourself a nice cup of tea and let 's talk yarn choices…
You see a beautiful skein and immediately, you think – "Oooh!!!! I have to have that!" And you buy it. Now, what are you going to do with it? I know — it's reeeaaaallly pretty and you're sure you'll find something to make, but there are several things to consider when matching yarn to a pattern.
Below are a few questions you'll want to ask yourself first.
What is the purpose of the item you are knitting/crocheting?
You definitely want to keep in mind who you're making the project for and how that person will wear it/use it. Is it a baby blanket or a sweater for a child? Then you'll want to be sure that the yarn you choose is washable (preferably machine washable!) and sturdy. Is the person you're making that scarf for sensitive to wool; do they live in a place where it never gets really cold (like Alabama!)? Perhaps a plant fiber, like linen or cotton, is the best choice.
Ask yourself what qualities you're looking for in your finished project.
Does it need to be…
washable/machine washable
stretchy
warm
cool
organic
lightweight
heavy
silky
textured
light-colored
neutral in color
dark-colored
soft
sturdy
Once you've determined this, you'll be better equipped to make decisions about the fiber content, weight and texture of the yarn, and last, but not least, color (my favorite part!).
What kind of fiber should I use for my project?
First, check the label to see what the yarn is made from and where it's manufactured. (Without going off on a tangent too far, you should know that I'm a diligent proponent of ethically sourced and produced yarns, as well as "Made in the USA".) Some yarns contain a combination of fibers, making the decision a little trickier, but you can always send me a note and ask for guidance if you're unsure.
Animal Fibers
Animal fibers, such as alpaca, angora, cashmere, llama, mohair, wool, yak, etc., are warm, have good elasticity and will hold their shape better than plant fibers. These characteristics make them a good choice for cold weather apparel and accessories – think sweaters, hats, scarves, mittens, and blankets.
Plant Fibers
Plant-based fibers, like cotton, hemp, and linen, are more rigid than their animal counterparts. They don't hold their shape very well, but they don't retain heat the way animal fibers do. That makes them a great choice for warm weather garments and accessories. They're also terrific for home decor items. An extra bonus is that these fibers are quite durable and will hold up to repeated wear/use.
Silk
What about silk? Silk is a protein based fiber and it's frequently blended with both animal and plant-based fibers to give them extra softness and sheen. Pure silk yarn is not only lusciously soft, it's a feast for the eyes, too. It takes (and holds on to) dye in a manner that is unmatched, resulting in rich, lustrous colors. It's a bit slippery to work with, though, and I usually only recommend it for accessories.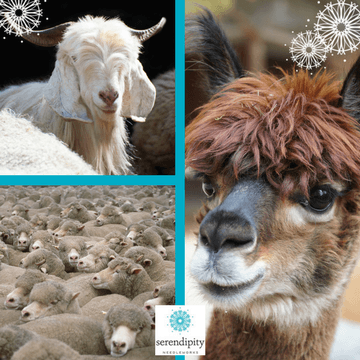 What weight yarn should I use for my project?
This question stumps a lot of people – and it's one that you'll get better at answering with practice. An important thing to know is that yarn weight correlates to gauge, which tells you how much yarn it takes to knit one inch.
The weight/thickness of your yarn affects your project in a couple of very significant ways – how it will look and the amount of time it's going to take you to complete your project. For example, you wouldn't want to use a super bulky yarn to make a baby garment. Yes, you might be able to knit/crochet the project in a few hours, but that sweet little baby would get lost inside the bulk of a super thick sweater. On the flip side, you don't want to use a lace weight yarn to make a blanket because it would take waaaaaaaay too long to finish it.
There are currently no official categories for yarn weights. Many manufacturers and publishers in the needle arts industry use common terms to designate the thickness of a yarn and the size needle/hook you should use, though. You may have seen a yarn label that has a little skein with a number printed on the side of it. That yarn weight system was created by The Craft Yarn Council. Below, you'll find their handy guide for choosing yarn. You may also use it to choose yarns that don't include the CYC numbering system.
What texture should my yarn be?
All those fun funky novelty yarns are great for making garter stitch and stockinette stitch accessories like scarves and cowls, but they're not what you'd want to use to knit a cable or lace project. Why? Complex stitch patterns look best worked in smooth multi-plied yarn. Smooth yarn creates better stitch definition and that means your stitches really stand out. (And it makes you look like a Rock Star Knitter/Crocheter!) It'd be a shame to spend your precious time working a lace pattern only to have it disappear into the fuzz.
What color should I choose?
Now we're finally to my favorite part of choosing yarn for a project — COLOR!!! It's soooo much fun to let your creativity run wild when it comes to color, but there are a few guidelines that you should consider.
Beautiful hand painted and variegated yarns are a delight to look at and use because, you know – it's just so much fun to see which color is coming next! And I'm a total pushover for sparkles, so all those novelty yarns with glitz and bling, well, let's just say I have (ahem!) a few skeins in my stash. I've found that it's better to keep it simple when choosing patterns for these beauties, though. In fact, plain ol' garter stitch and stockinette stitch are perfect for showing off the artistry of each skein.
Complex stitch patterns are best suited to smooth textured, solid colored yarns in light hues. Intricate patterns, like cables and lace, tend to get lost in dark colors, so steer clear of black, navy blue, chocolate brown, etc.
Once you've chosen the color, be sure you get enough yarn – in the same dye lot – to complete your project. Your pattern will tell you how much yardage you'll need, but I usually get an extra skein as an insurance policy. Most yarn shops will accept returns of unused yarn, if you keep your receipt.
If you have your yarn, but you still need a pattern, be sure to check out one of my favorite designers, Churchmouse Yarns, here.
Alrighty – that's all for now, my friend.
Until next time, happy stitching!
XOXO!