So, now that you know how important it is to buy the best quality supplies you can afford, let's chat about choosing the best threads for your needlepoint projects.
If you're looking for tips on choosing yarns for knitting and crochet projects, check out this post. I divided the information into two posts, so it would be more convenient for you to read.
Why don't you pour yourself a cuppa and let's talk thread?!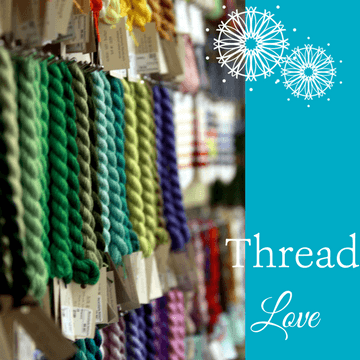 Are you a thread-aholic? Unashamedly, I confess that I am. There — I admit it, so I can tell you the whole truth. I have A LOT of thread — in fact, I probably don't need to buy another single skein (ever!) — except, it's just  sooooo pretty and I might really need it for that canvas I stashed away a couple of years ago…
And it's true! You really might need that beautiful skein of over-dyed silk, but before you begin choosing threads to stitch your canvas, there are several things to consider. Below are a few questions you really should ask yourself first.
What's the purpose of the item?
Is it functional or decorative? Will it be worn or displayed? Who is it for? How do you think that person will use it? If it's a pillow for a child's room, you should choose threads that are more durable than those you might select for a bolster for the living room sofa. And you can use all kinds of silky, sparkly threads on a Christmas ornament that you shouldn't use on a belt.
Ask yourself what qualities you're looking for in your finished project. Does it need to be washable/machine washable; durable; delicate; textured; silky; light-colored; neutral in color; dark-colored, glittery; plain? Will it be framed and hung on the wall or will it get a lot of use (like a pillow for the family room sofa!)? Once you determine the item's purpose, you'll be better equipped to make decisions about the fiber content and texture of the thread, and last, but not least, color (my favorite part!).
What kind of fiber should I use?
First, check the label to see what the thread is made of. Some threads contain a combination of fibers, making the decision a little trickier, but we'll sort through it so you can make decisions with confidence. Generally speaking, there are four different kinds of needlepoint threads: wool, cotton, silk and novelty. Let's take a closer look at each one now.
Wool Thread
Wool is, by far, the most popular type of thread used for needlepoint. It's quite durable, making it the perfect choice for projects that will receive a lot of wear. A few of my favorites are Appleton (both tapestry and crewel wool), Bella Lusso, Planet Earth Wool, and Vineyard Wool. The beauty of Appleton tapestry wool, Planet Earth Wool, and Vineyard Wool is that they are designed to be used in single strands, which means that they're really good for beginning stitchers. Appleton crewel wool and Bella Lusso are light-weight threads that lend themselves to blending colors and shading by using multiple strands threaded in the needle.
Cotton Thread
Cotton threads are quite durable, too, and they come in a plethora of colors. Perle cotton is particularly good for beginning stitchers, as it comes in a variety of sizes and is suitable for different mesh sizes. Six strand embroidery floss is the other cotton thread that can be used quite successfully in needlepoint, but it requires special treatment (stripping strands apart, putting them back together, and using a laying tool) in order to get it to lay down smoothly on your canvas. DMC is my "go-to" thread when I want to use a solid color of cotton thread on my canvas.
Silk Thread
Pure silk thread slides through your canvas like melted butter and it has a sheen that is unparalleled. Unfortunately, it's not as durable as its wool and cotton counterparts, so you should really think about how the piece will be used before choosing silk thread. It's also more costly than either cotton or wool thread. Silk thread is available in two main forms: twisted silk (like Pepperpot and Vineyard Silk) and plied silk (like Splendor and Soie d'Alger). Twisted silk behaves much like perle cotton and is easy to use. Plied silk, however, can be fly-away, so you have to use a lot of care when working with it. The strands will either tend to stick together — or you'll find a straggler that wants to go its own way. Using a laying tool is an absolute necessity when working with plied silk.
Novelty Thread
Novelty threads add sparkle and dimension to your needlepoint canvas and they come in an assortment of textures and finishes: metallic, silky, fuzzy, velvety, prickly, sparkly, shiny, matte, etc. Each novelty thread has its own unique properties that require special handling in stitching. Rainbow Gallery and Kreinik threads are my favorites for adding bling and pizzazz to my needlepoint.
What weight thread should I use?
Deciding which threads will work best for your canvas is one of those things that you'll get better at with practice. The most important thing to know is that thread weight correlates to mesh size.
The weight (which can also be thought of as thickness) of your thread should be such that it slides easily through the hole in the canvas. There are several different sizes of canvas mesh, but the most commonly used today are #10, #13, and #18. (We'll keep things simple here and assume you're working a basic needlepoint tent stitch on mono-canvas.) Generally speaking, smaller threads work best on smaller mesh and thicker threads work best on larger mesh. You want to be sure that you don't have to tug to pull your threaded needle through the canvas, but you also don't want to be able to see canvas peeking through your work. If either happens, you need to re-evaluate your thread choice. The exception to this (isn't there always an exception?!) is with novelty threads. Some novelty threads create "drag" when being pulled through the canvas simply by virtue of their texture. When in doubt about whether or not a thread will work on a particular piece, you can always do a small test out on the edge of the canvas. (And be sure to keep an eye out here on the blog for more hints and tips coming soon!)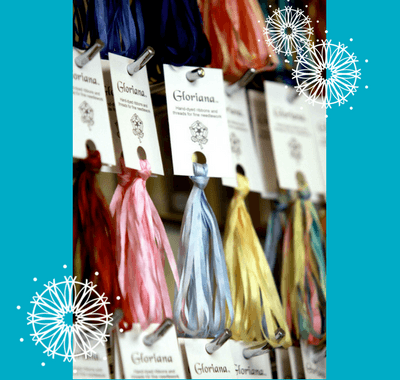 What texture should my threads be?
Your choice of thread texture can make — or break — the overall aesthetic of your finished piece. In my opinion, you can't go wrong stitching an entire canvas in tent stitch using wool, cotton, or silk threads. Your finished piece will be a classic, traditional heirloom that you and your family will treasure for many years.
Novelty threads allow you to experiment and have fun with texture. The addition of novelty threads can (and should) enhance your piece with just the right touch of sparkle and pizzazz. A word of warning, though — be careful not to over do it with those funky fibers. The result can be a shockingly obnoxious mess.
Finding a happy medium — one where you use both natural fibers and novelty threads — is your ultimate goal. My best suggestion for using those novelty threads? Look at the design element on your piece, think about what texture that item has in the real world, then try and find a thread texture that mimics it.
What color threads should I choose?
Now we're finally to my favorite part of choosing threads for a project — COLOR!!!
Color can be overwhelming — especially when choosing threads for a needlepoint canvas. Hand-painted needlepoint canvases can be quite pricey, as can the threads. And there's nothing more disheartening than to invest a lot of money into a project that you don't like because you botched picking out colors. (Been there — done that!) Unless you're familiar with color theory, I suggest that you match your threads to the colors of the paint on the canvas. (Remember, the artist has already chosen colors that play well together.) If you can't find a perfect match for a particular part of the design, find one that's as close as possible, then make sure it looks good with the other threads you've already selected.
Changing Colors
Sometimes the colors in an otherwise lovely canvas don't match your decor. And then, there's the canvas that you L-O-V-E…but it has that awful putrid green that you just can't stand! (I know — you bought it anyway and now, you don't know what to do. Been there — done that, too!) It's quite acceptable to adjust colors on a canvas.
Just. Be. Careful.
Changing all of the colors on a piece can, sometimes, ruin the overall design. It's usually better to change a few that might be glaringly out of place in your decor. You can always tone down a couple of colors here and brighten up a few colors there. If you're not sure, you can always send me a note. I'll be happy to share my suggestions.
After you choose your colors, be sure you get enough thread — in the same dye lot — to complete your project.
I'd love to hear from you, so please share your thoughts in the comment box below! Have a question? You can include it below, too. I read all of your comments and will be happy to help.