It's almost that time of year again…
time to gather up the projects you've been working on and send them off to the finisher. The deadline for holiday finishing is rapidly approaching. It seems like it's getting earlier and earlier every year, doesn't it?!
If you're one of those fortunate stitchers who lives in a town with a local needlework shop that provides finishing services, you have it made in the shade. But there are lots of stitchers who live in needlepoint wasteland, and that can present quite the challenge when it comes to choosing someone you can trust with your hand-stitched treasures.
Well, my friend, I have some exciting news!
My friend Judith's fabulous finishing department is open for business and they have a brand spanking new website that you can visit to check out their services. The Needleworks Workroom provides superior quality artisan finishing and they're my "go-to" for ornaments, stand-ups, stockings, and more. (The only thing they don't do is pillows.)
If you're searching for someone to do your finishing…
I recommend the Needleworks Workroom with the utmost confidence. In fact, you can take a peek at some of their work below.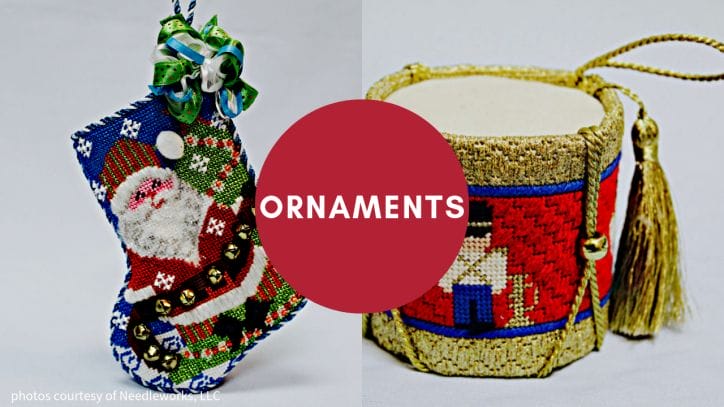 And if you're coming to Jingle in July, you'll get to meet  Judith and see her presentation on finishing at our farewell luncheon on Friday, July 26. It's going to be terrific! (You might even consider bringing some of your pieces with you to Tuscaloosa.)
William Morris once said, "If you want a golden rule that will fit everything, this is it: Have nothing in your houses that you do not know to be useful or believe to be beautiful." I subscribe to Mr. Morris' philosophy and I'm pretty sure that Judith does, too. As long as she's part of the Needleworks Workroom, you can rest assured that your treasures are in good hands.
You spend countless hours stitching your needlepoint treasures, so it only stands to reason that you'd want the best when it comes to finishing your heirloom creations.
If you're looking for someone to finish pillows, my best suggestion is Marlene Custom Pillows, Etc. Marlene's did some of the finishing for me when I had my shop, so I can recommend her workroom with confidence, too. Again, as long as Marlene is in charge, you can trust her company for superior quality workmanship.
As always, if you have any questions about finishing, please reach out to me. Click here to send me an email. I'll be glad to help you.
And before you go, I'm curious… do you do your own finishing or do you send it out to a professional finisher. I'd love to hear from you. I read every single comment you share with me.
Thank you ever so much for taking time out of your busy day to visit with me here. I'll see you next week and until then, happy stitching!
XOXO!!!

PS: If you'd like to get my weekly NeedleNotes newsletter, click here to sign up now. I share all kinds of needlepoint goodness with you every Thursday.