Hi there!
I hope you're having a happy Tuesday! It's finally starting to feel like fall here in Tuscaloosa. In fact, I spent some time out on my newly screened-in porch yesterday. Wanna know what I was doing? Frogging the pumpkin canvas I showed you on Instagram a couple of weeks ago! Yep – I ripped it all out…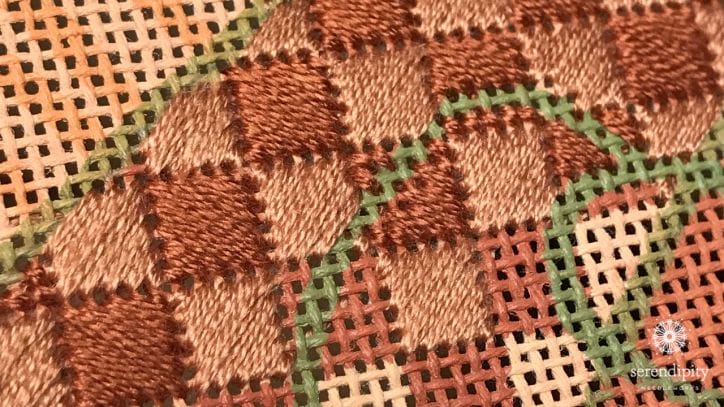 Have you ever started a canvas with the best of intentions, only to find it just doesn't light you up anymore? Well, my friend, that happened to me with my Whimsy and Grace pumpkin canvas. You see, it's been patiently waiting for me to pick it up again for (ahem!) the past 16 years. I even bought new threads for it – thinking that might be what I needed to spur me on.
Guess what?
It wasn't!
I started stitching the little squares in reverse Scotch stitch with my beautiful new 6-ply silk thread from Planet Earth. As you can see, I didn't finish.
Then, I jumped to the stem. And I didn't like what I did there.
Finally, I stitched the smallest section at the very top of the design. NEWSFLASH… I didn't like that either.
So, what's a gal to do?
After some hemming and hawing, I made a "Marie Kondo" kind of decision.
What the heck does that mean? Well, in a nutshell, I decided that since this canvas no longer brings me joy I was letting it go.
I'm sure someone else will find oodles of joy in stitching it.
So, I pulled out my trusty seam ripper and commenced frogging. Rip it, rip it, rip it…
And you wanna know something? While I was frogging the pumpkin, surrounded by piles of orange and green fuzzies, it dawned on me that I didn't really care that I'd spent HOURS stitching this canvas, only to rip out all that I'd done.
That may sound crazy to you, but let me explain…
You see, frogging that pumpkin was downright liberating.
How's that possible? Well, I decided – as I frogged – to send this canvas over to Gail at Cash Your Stash. (I finished ripping out all that I'd stitched because I think it'll have a better chance of finding a new home as a "clean slate" of a canvas.)
And while I was frogging the pumpkin, the wheels in my head started turning…
there are still OODLES of canvases in my studio! A vast collection that I've amassed in the more than 25 years that I've been doing painted canvas needlepoint.
And then a little voice in my head said, "Ellen- there's NO WAY you'll ever stitch all of those canvases!"
Wanna know what happened next?
I went downstairs, started pulling out canvases, and asking myself…
"Does this one spark joy?"
"How about this one?"
"What about that one?"
And just about every time I picked one up – to the tune of more than 15 canvases – the answer was a resounding "Nope!"
Transparency time –
I have to be honest with you. I've done a lousy job of sorting through all of the stuff I brought home with me after I closed my brick and mortar store, so my basement looks like a needlepoint (and yarn!) bomb went off down there. (And no, I'm not sharing a picture – it's embarrassing!)
But I'm on a newfound mission to clean it up. To go through every little thing, Marie-Kondo-Style, and get that space spic and span by the first of the year.
I have several Rubbermaid plastic bins to sort through, so I'll keep you posted on what I find. And I'll share some of my revelations along the road to organizing my stash. Sound good?
In the meanwhile, I feel soooo much better now that I've given myself permission to let go of those things that no longer bring me joy.
If you have canvases that you no longer love, think about sending them to Gail. Then you can buy new ones that really do spark joy in your heart. That's what I plan to do. 😉
And speaking of hearts…
I've been chatting with Sue Hart from Kansas City. She's a member of the Greater KC Chapter of the American Needlepoint Guild and she very graciously shared info with me about their Hearts for Hospice project. If you'd like to learn more about how you can participate, click here. And mark your calendar to join me for a live broadcast from the Serendipity Needleworks Facebook page on Thursday, October 10, 2019, at 3:00 p.m. CDT.
Alrighty – it's time to get busy in the kitchen. I have a brand new recipe I'm trying out. I'll share it with you on Thursday, in this week's email. Oh – and if you don't get my weekly emails, I'd be happy to add you to the list. Just click here to sign up. 🙂
Thanks for popping in for a visit.
Have a terrific Tuesday and, until next time, happy stitching…
XOXO ❤️

PS: Here's a wee bit of "lagniappe" – a little something extra – just for wonderful Y-O-U…
I thought you might like to have the stitch diagram for the reverse Scotch stitch so you can use it on one of your projects.
It's a great option for adding architectural details on houses and buildings. You can also use it for checkerboard patterned blankets and quilts, articles of clothing, rugs, walls, and draperies – even backgrounds!