Bet you never thought about needlepoint canvas much…
But it can affect your needlepoint project more than you might think. Let's take a peek at the 3 main types of needlepoint canvas that we use most: interlock mono canvas, mono canvas, and Penelope canvas.
Each kind has special features that make it uniquely appropriate for a variety of projects. I prefer cotton canvas from the folks at Zweigart. In my opinion, it's the best. How can you tell the origin of your canvas? Well, if you've ever purchased a needlepoint canvas that has a thin orange thread running through the selvedge, you can count on it being Zweigart canvas.

Basics of Textile Construction
Before we dive into the different kinds of canvas, you need understand a little about textile construction. All textiles have warp and weft threads. The warp threads run lengthwise in the material and the weft threads are the widthwise threads that "weave" over and under the warp threads to create a simple weave textile.
Needlepoint canvas is an open grid even weave material. It's important to note that needlepoint canvas comes in a variety of mesh sizes and that the mesh size is directly related to the number of stitches per linear inch.
For example, there are 10 stitches in a linear inch of a size 10 mesh canvas. And you'd use a size 18 tapestry needle to stitch a 10 mesh canvas. (Want to learn more about which needle size to use on the different mesh sizes? Click here for a handy chart and some helpful hints.)
Now, let's take a closer look at the kinds of canvas we use in needlepoint…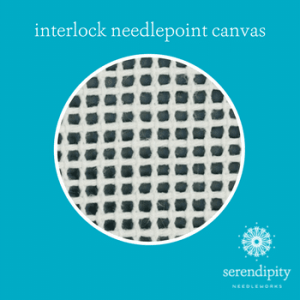 Interlock Mono Canvas
First, there's Interlock mono canvas (or interlock). It has a very stable construction and can be trimmed closely without fear of it unraveling. It features two thin threads twisted around each other to create the lengthwise "warp" of the canvas – and those twisted warp threads are interlocked in a grid pattern with a single crosswise "weft" thread. (You can see the twisted threads in the picture above.)
Screen printed designs are often printed on interlock canvas – and you'll often find interlock canvas in kits. As a matter of fact, both Elizabeth Bradley kits and Ehrman kits are screen-printed on interlock canvas.
Mono Canvas
Then there's mono canvas. It's available in a variety of beautiful colors and has a plain weave construction. Remember, plain weave is a single weft thread woven over and under a single warp thread to create a grid pattern. (You can see the plain weave pattern in the picture above.)
Almost all of the painted canvases available these days are hand painted on mono canvas. You can also use mono canvas in counted thread/canvas work embroidery, like those fabulous designs from Needle Delights Originals and Laura J. Perin.
The most common sizes of mono canvas are 10, 12, 13, 14, and 18. My personal favorite is 18-mesh. Why? Because artists are able to create designs with greater detail on that smaller mesh canvas.
Penelope Canvas
And finally, there's Penelope canvas (a.k.a. duo canvas) which has a similar structure to mono canvas. Pairs of single threads form both the warp and weft of the canvas material. (Look at the picture above to see how the pairs of threads are woven together.)
The most common size of Penelope canvas is 10/20. Stitch the larger holes and your stitch count per inch is 10, but, when you split the threads and stitch the smaller holes, your stitch count per inch jumps up to 20. Pretty cool, huh?
You can create very fine detail when the threads are "split apart" and you stitch the smaller holes. The beauty of Penelope canvas is that you can combine both gros point (large-hole stitching) and petit point (small-hole stitching) on the same piece to create a lovely finished project.
Almost all (if not all) of the pre-worked needlepoint designs available today are on Penelope canvas.
What's your favorite kind of needlepoint canvas to stitch on?
Have you stitched on all three kinds – or just one? What did you make from your stitched piece(s)? A pillow? A rug? A wall hanging? I'd love to hear all about your projects, so go ahead and take a minute or two to tell me about them in the comments box below. (And please don't be shy…I reeaaalllly do want to hear from you!)
And if you have any questions, you can leave them down below, too. I'm here to help!