Hello there, lovely – and happy Tuesday!
I hope you're having a fantabulous week. I can't tell you how great it is to be here with you!
Really – I mean that, from the bottom of my heart! Every day, I jot down three things I'm thankful for in my journal. (It helps start my day off on the right foot.)
Did you know that you're always on that list? Yep – wonderful Y-O-U!!!
It's such an honor (and a privilege!) to be able to share my love of needlepoint with somebody who "gets" my obsession.
If you're a "gung-ho" stitcher like me, I'll bet you can relate to…
squealing with excitement when you find the perfect canvas to stitch for your best friend's birthday.
being on a first-name basis with your mailman and the UPS guy – or the staff at your local needlework shop, if you're lucky enough to have one nearby.
that sinking feeling when you realize the stitch you chose for the purple flower isn't gonna work after all.
carefully frogging hours of stitching (sometimes muttering a few choice expletives that would make your mother cringe) – all so you can try again for the perfect outcome.
jumping for joy when you finish a project!
That feeling of elation that comes from creating a one-of-a-kind heirloom treasure is pretty powerful, isn't it?!
And speaking of creating…
Have you seen the brand new Serendipity Needleworks manifesto?
It captures the essence of what Serendipity is all about and I'm super excited to share it with you.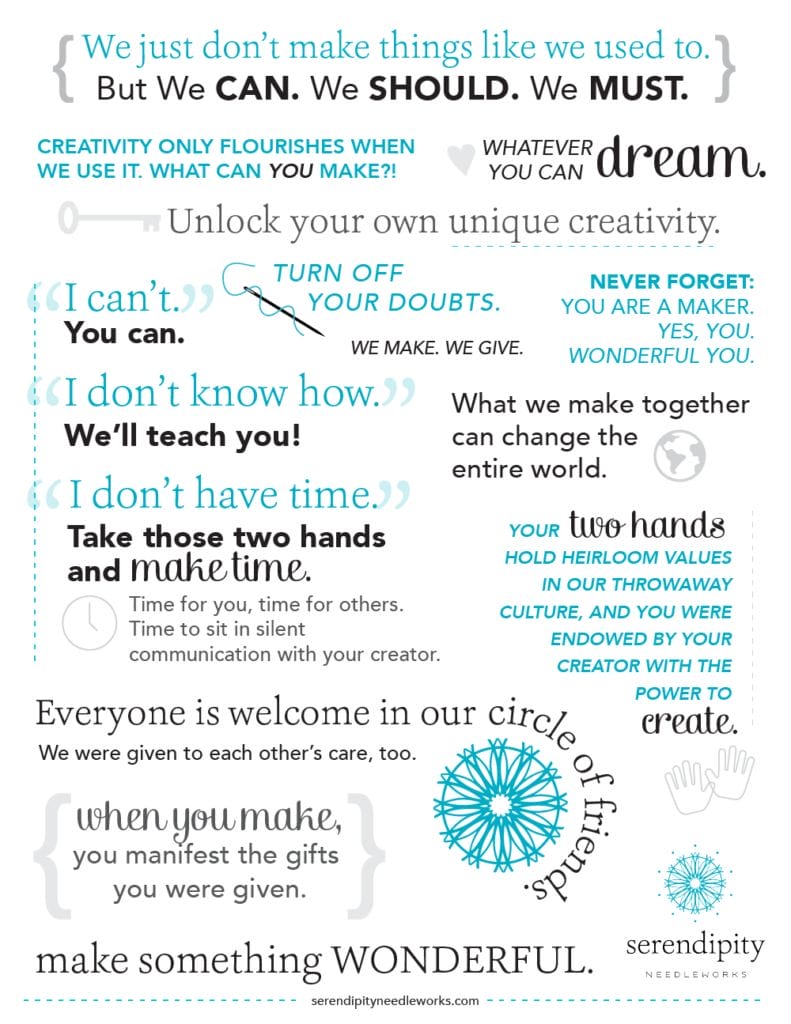 I'm over-the-moon thrilled to announce something else new, too.  It's coming your way in March.
Cue the drumroll…
It's my brand new 1, 2, 3 Needlepoint Workshop.
I hope you'll join me. It'll help jumpstart your creativity – and get you on the road (or back on track!) to success with your needlepoint hobby.
Whether you're just starting out, are stuck in a rut, or wanna develop your needlepoint skills, I guarantee you'll learn something new. It's gonna be oodles of F-U-N and it won't take a ton of your time. Pinky promise!
What's the workshop all about?
Great question!
Click here to learn all about it and I'll see you on the inside!
Until next time, happy stitching.
XOXO!!!❤️


PS: The 1, 2, 3 Needlepoint Workshop is free, so what are you waiting for?! Click here to pre-register now!