Choosing a needlepoint stand can be a daunting task, especially if you don't have a local needlework shop nearby. If you've been following me for a while, you know that Serendipity Needleworks began as a brick-and-mortar store, so I have an extensive background in helping people choose their ideal needlepoint stand. And that's what this series of blog posts is going to be about – choosing the best needlepoint stand for wonderful Y-O-U! First, we're going to take a closer look at needlepoint stands from Needlework System 4, a company based in Florida.
The first Needlework System 4 stand hit the market in 1998.
It was the result of an avid stitcher and her skillful brother putting their heads together to create the ultimate needlework stand. The company's additional products have joined the product line in response to requests from stitchers from around the world.
All of their products are made in the United States and are sold only through fine needlework shops. They have an outstanding warranty program and you may work directly with them for any repairs or replacement parts. (Of course, you may also ask your local needlework shop for help if you prefer.)
Currently, Needlework System 4 offers two different floor stands and one tabletop/laptop stand. (Note: You can "create" a rug stand by combining either two Floor Stands or two TravelMate Stands with a rug scroll frame.)
I have the Needlework System 4 TravelMate and Table/Lap Stand. I use both of them regularly. In fact, I have a project on each of them right now. 😉
You can watch my video demonstration of how they work over on my YouTube channel here.
Now, let's take a peek at each stand.
The Needlework System 4 floor stand…
is a terrific option for stitching in your favorite chair – or on a sofa. The picture on the left shows the floor stand with a clamp and stretcher bar frame while the picture on the right features a floor stand with a scroll frame.
Here are some more details about the Floor Stand.
Folds for easy storage
Weighs just 4.5 lbs
Adjusts to any angle
Fits under most furniture
The Needlework System 4 TravelMate is very similar to the original Floor Stand…
but there are a few little nuances that make it my favorite. 🙂
It, too, folds for easy storage and weighs in at just 4.5 pounds. It also adjusts to any angle and will fit under most furniture. The primary difference is the "telescoping" feature that enables you to "collapse" it down, making it very easy to carry. It will literally fit into your suitcase.
The picture on the left shows it without any type of clamp or scroll frame attached to it. Compare it to the picture on the right of the original Floor Stand.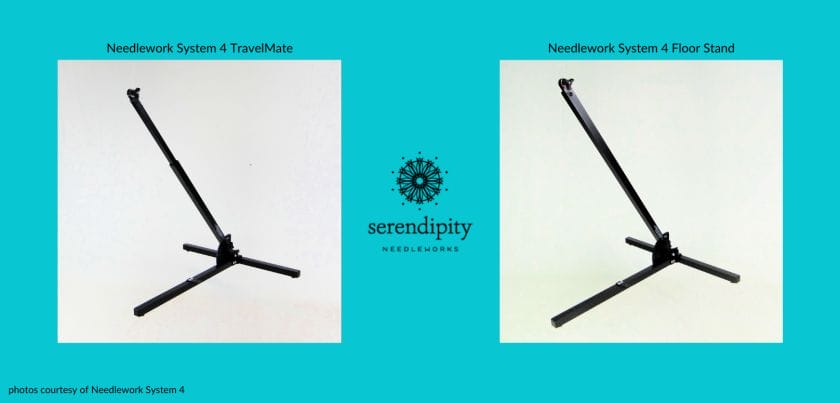 You can see how very similar they are. My recommendation is to "test drive" both models to see which you like best. If you don't have a local shop where you can do that, I suggest talking to several people who own either one or the other. After evaluating the pros and cons, you can make an informed decision. I honestly don't think you could go wrong either way, though. 😉
The Table/Lap Stand is a handy little stand, too.
It's completely different from either of the floor stands. As you can tell by the name, it enables you to work at a table or with your project in your lap. Personally, I prefer using a table/lap stand (from any manufacturer) for smaller projects, like ornaments.
Here are a couple of photos so that you can see what the Needlework System 4 Table/Lap Stand looks like with both a clamp and a scroll frame attached…
Something to keep in mind is the Needleworks System 4 Table/Lap Stand will only accommodate a small or medium size scroll frame.
Just like the floor stands, the Table/Lap stand is quite portable. It folds down flat for easy carrying. It weighs only 1.75 pounds and is incredibly well balanced because of the sturdy solid base.
There are oodles of Add-On Accessories available for all three of these stands…
and you'll want to check them out on the Needlework System 4 website to see the different options. I definitely recommend adding a Radius Arm Extension if you plan to purchase either the Floor Stand or the TravelMate with the clamp. That one little "extra" makes all the difference in the world when it comes to adjusting your stretcher frame to just the right angle so that you can stitch more comfortably.
Something to keep in mind when purchasing a Needlework System 4 stand is that virtually all of the pieces are sold separately. That makes them extremely customizable, enabling you to create the needlework stand of your dreams. It also makes them more expensive than some of the other options available, though.
I've had both of my Needlework System 4 frame stands for more than 10 years and I've never had a problem with either of them, so just remember, you're making an investment in your hobby – and in yourself – if that sticker shock is a little tough to swallow. The benefits of using a stand far outweigh the initial cost and I believe you'll find stitching more enjoyable when you use one.
Alrighty – that's all for now, my friend! Thank you ever so much for popping in to read this week's blog post. We'll take a peek at the Lowery Workstand after the 2021 Winter Stitch Challenge, which is happening next week! Squeeeeeee!!!
There won't be a new blog post until the first week in February, but if you'd like to learn more about how you can join us next week, click here.  The more the merrier! 🙂
Until then, happy stitching…
XOXO!