No, I'm not talking about the movie starring Natalie Wood and Warren Beatty. That's Splendor in the Grass. I'm talking about using Splendor for the grass on my "Tuscaloosa" canvas. (tee hee!)
Splendor is one of my all-time favorite threads. I used it a lot in our Threadventure. You can read more about it here.
Problem is, I don't have the right color green for the grass on my canvas…
So, what's a gal to do? Go stash diving, of course…
Wanna know what I found?
Soie Cristale by the Caron Collection. It's a 12-strand divisible silk thread and it comes in more than 200 solid colors.
It's very much like Splendor, so it'll give me the effect I'm looking for on the grass design component of my needlepoint canvas.
Soie Cristale is a spun silk thread. That means it's made from bits and pieces of silk fiber.
Those smaller pieces are spun together to create a thread. It's not as strong as filament silk (the other form of silk thread), but it's easier to manage.
It's best to cut shorter pieces when working with Soie Cristale, so it doesn't tangle. I usually cut my pieces no longer than 16″.
Each strand is a little bit thicker than a single strand of cotton embroidery floss. I use four strands of Soie Cristale on 18 mesh canvas and six to eight strands on 13 mesh canvas when I want to achieve full coverage.
Use fewer strands if you're using open stitches or prefer lighter coverage.
Soie Cristale is put up in a skein and each skein has six yards. Since it's a divisible thread, it's best to separate the strands, then put them back together before threading your needle.
Do that one extra little thing and your stitches will be more likely to lay smoothly on the surface of your canvas. Of course, you'll want to use a laying tool, too – to ensure that those strands lay side by side all nice and neat.
I'm using the reverse mosaic stitch…
to work the grass on the riverbank since it's a small space. Here's a picture of the first step.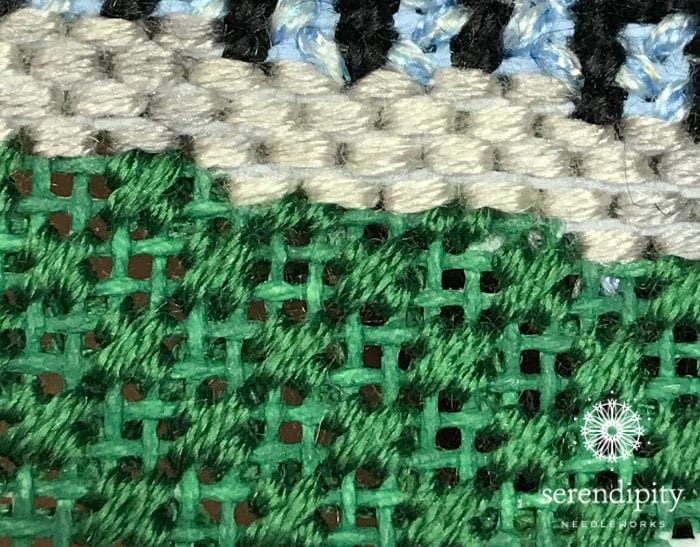 And here's a picture of the second step. I love the way this stitch adds just the right amount of texture to the grass.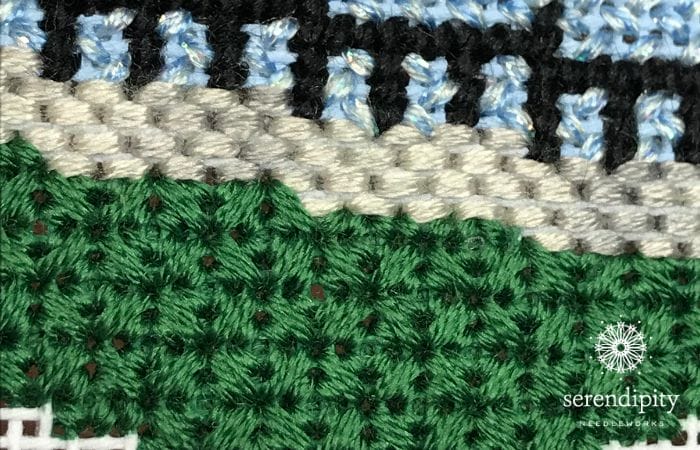 The diagrams below show you exactly which order to work your mosaic stitch units. Just follow them and you'll be golden!
Here's step 1…
And here's step 2…
Reverse mosaic stitch is also a nifty background stitch.
It's really easy to execute and it's not hard to compensate either. If you're new to using decorative stitches, give it a try. I think you'll like it.
Here's a picture of the ornament I made for Rebekah and Dan's wedding. I used reverse mosaic stitch as the background stitch.
We'll take a look at beading the letters on my Tuscaloosa canvas next week, so I'll see you back here then. (That's first thing Thursday morning if you're new to the Serendipity family.)
Oh – and before you go, please tell me how you might use the reverse mosaic stitch – or Soie Cristale – on one of your needlepoint canvases. I'd love to hear from you. I read every single one of your comments.
And when you leave a comment, your name will be entered into the October drawing for a Serendipity Needleworks needle minder.
Until next time, happy stitching!
XOXO!

PS: Are you on our Serendipity Needleworks NeedleNotes list? That's where we share tips, ideas, events, and cheer each other on and I'd love to have you join me, so click here to subscribe. I'll see you there! 😉