Have you ever used beads on your needlepoint projects?
I L-O-V-E to add them to my canvases and I'm about to embark on a lot of beading with my new project. I'm planning to use a brick beading technique on the word "Believe", so the process won't be quite as intense as if I were beading every single canvas intersection. 😉
There are oodles of different kinds of beads and we're going to take a peek at a few of them here today…
So, just how many different kinds of beads can you use in needlepoint?
A LOT! In fact, you can use whatever types of beads you want to embellish your canvases. Most stitchers stick with seed beads, though. "Seed bead" is the blanket term for small beads, and these beauties come in an array of shapes (and sizes!).
A bead is a bead – or is it?
Before we dive in too deep, I should tell you that the very best beads come from Japan.
Miyuki is my all-time favorite. They're consistently uniform in size and that includes the diameter of the hole. That's something you can't say about Czech beads. Czech beads are cheaper, but you may find yourself tossing large quantities of them in the trash because your needle won't fit through the hole.
How do you know if you're getting Japanese beads instead of Czech beads? Their country of origin should be on the label. Most needlepoint shops carry beads from either The Collection or Sundance Designs and both of those companies advertise that their beads are from Japan, so you should be safe. You'll occasionally run across a few beads that you can't get your needle through, but that's not the norm. (Or at least, it shouldn't be.) Seed beads that you find at big box craft chains are usually from Czechoslovakia.
Alrighty – back to the different kinds of seed beads…
The most popular shapes of beads used in needlepoint are round beads, cylinder beads, and hex beads.
How are they different? Great question!
Let's start with round beads…
Round beads (aka rocailles) are small, spherical, and bulbous in shape. They come in a variety of sizes, but size 11 and size 14/15 are the most common in needlepoint.
I like to use size 11 rocaille beads on 13/14 mesh needlepoint canvas and size 14/15 rocaille beads on 18 mesh needlepoint canvas.
You see, with beads, the larger the number, the smaller the bead. So a size 11 bead is bigger than a size 14/15 bead.
Here's a picture of some rocaille beads for you…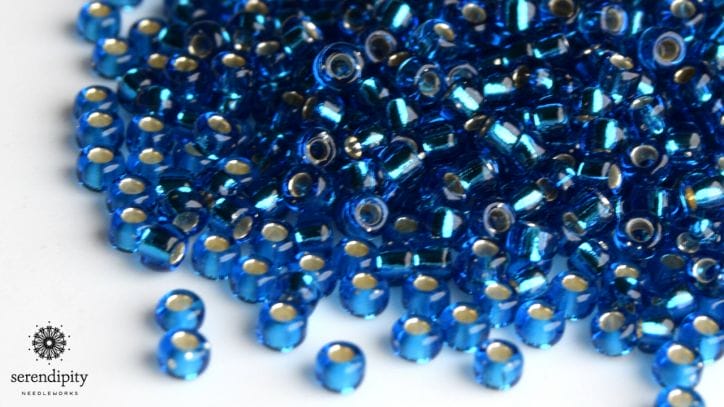 And then there are the lovely cylinder beads…
Cylinder beads are similar to rocailles, but they're tubular in shape – kinda' like a drinking straw. In fact, that's how cylinder beads are made. They're cut from long tubes of glass, so they're not fat and round like rocailles. You may see stitch guides that call for Delica beads. Delica is the brand name of cylinder beads from Miyuki.
Delicas are a wee bit smaller than the same "size" rocaille beads. They're generally more expensive than rocailles and they typically come in smaller packages.
Here's a picture of cylinder beads for you – so you can see how they differ from rocailles…
Finally, let's take a peek at hex beads.
Hex beads are exactly what they sound like. Beads that are hexagonal in shape. They have angular edges that enable them to capture and reflect light beautifully. They're tubular, like cylinder beads.
Here's a picture of hex beads for you…
You may also find drop beads, bugle beads, square beads, triangle beads, and twist beads at your local needlework shop. And if you have a bead shop in your hometown, well – you're ever so lucky!
Right now, I'm debating on whether to use rocailles or Delicas for the brick beading I plan to do on "Believe". I'll let you know what I decide – and I'll share a picture of which beads I choose over on Instagram.
In the meanwhile, I'm almost ready to start stitching the background. I'm just waiting for the rest of my thread to arrive in the mail. It should be here by the end of the week. 😉
Be sure and tune in to this week's episode of Serendipi-TV over on the Serendipity Needleworks Facebook page. We'll gather there at 3:00 p.m. CST on Thursday. I'll share which stitch I'm using for the background – and we'll chat some more about beads.
What's your favorite bead shape to use on your needlepoint canvases? Tell me in the comments below. I'd love to hear from you!
Until next time, happy stitching…
XOXO!!