Well, whaddya' know… we're already to November! Eek! I can hardly believe it, can you? I'm super-busy getting ready for the "unveiling" of the new Stitcher's Club member portal in January, but I'm trying to stay on track with my daily commitment to stitching for an hour every afternoon. I figure if I post my progress here, you'll keep me accountable. 😉 And I'll use our time together to walk you through some of the things I do when I'm writing a stitch guide for a project. Sound good?
The first thing I do when I buy a new canvas is to decide how I'm going to finish it.
I just bought this beauty at Magic City Needlepoint in Birmingham on Saturday at their grand opening…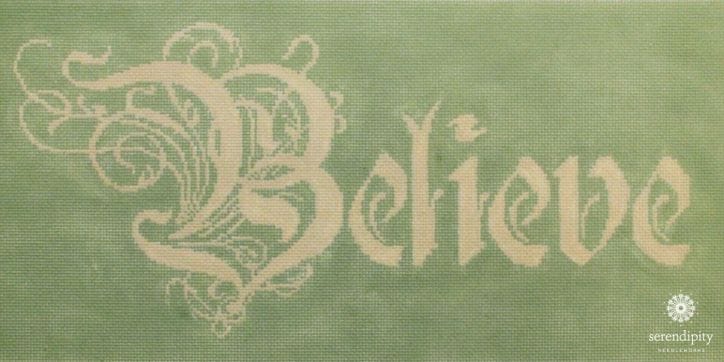 It's going to be a pillow for our family room. But it'll "live" on a chair that rarely gets sat upon.
Why does any of this matter?
I thought you'd never ask!
When you're beginning to make plans for how you're going to stitch a canvas, you need to "begin with the end in mind".
And the "end" in needlepoint is how your stitched canvas will be finished.
Will it become a pillow (like my canvas) – or will it be put in a frame? Maybe it's going to become a "stand-up".
Whatever you decide will determine the kinds of threads and stitches that you can successfully use on your project.
So, what kind of threads should you use on a canvas that's going to become a pillow? In the case of my project, I have lots of options. Just about anything will be suitable because this pillow won't get a lot of handling. But if you're making a pillow that'll live on the family room sofa, that's another situation altogether.
I'm using Vineyard Silk for the background on my project and I'm using Neon Rays + for the letters.
I L-O-V-E Vineyard Silk and this color is perfect for the chair that I'm making the pillow for. Because I don't want an over-the-top metallic look for the word "Believe", I'm using Neon Rays +. I like its subtle sparkle.
If you want to learn more about different kinds of threads, click here. That post is chock full of terrific info that I'm sure you'll find helpful.
Now, back to my canvas…
The stitch guide for this canvas will be pretty simple.
Since there are just two components to consider – the word "Believe" and the background – it won't take long to write the actual stitch guide. It's the stitch auditioning that'll take the bulk of my time.
Never heard of "stitch auditioning"? How about "thread auditioning"?
Okay… let's take a peek at both.
Stitch auditioning is the act of testing out different canvas embroidery stitches to see which ones you might include in your stitch guide.
And thread auditioning is where you try out different threads for the same purpose.
I already told you that I'm using Vineyard Silk and Neon Rays + for my pillow, so that decision was made early in the process. Since I've been doing this for a looooonnnng time, I feel comfortable with my choices. That's not to say that I won't change my mind, though. I always leave the door open for edits.
We'll chat more about thread options in this week's episode of Serendipi-TV over on the Serendipity Needleworks Facebook page. I hope you'll join me there on Thursday afternoon (November 7) at 3:00 p.m. CST.
I might even have a little surprise for you, but you'll have to tune in to find out! 😉
Until next time, happy stitching!
XOXO!!!

PS: Are you on our Serendipity Needleworks NeedleNotes list? That's where we share tips, ideas, events, and cheer each other on and I'd love to have you join me, so click here to subscribe. I'll see you there! 😉