2021 is going to be an exciting year at Serendipity Needleworks. I'm smack dab in the middle of planning our calendar right now. In fact, I'll be sharing more info about A LOT of fun activities real soon. Did you see this week's episode of Needlepoint TV? (If you didn't, you'll definitely want to check it out here.)
Not sure what Needlepoint TV actually is?
It's my weekly "live" video show over on YouTube. It's also streamed onto our Facebook page – but all of that is changing!
Yep – I'm shifting gears and, going forward, all of the episodes of Needlepoint TV will be pre-recorded and uploaded to our YouTube channel here.
(There won't be a new episode on November 24th, but we'll kick things off with our new format on December 1st!)
Why am I making that switch?
Needlepoint TV is getting a "makeover"…
and in the new episodes, I'll share needlepoint tips, techniques, and tools (plus LOTS more!) with you!
I'd love to get your input on what you'd like to see in future episodes, too, so click here to share your thoughts with me.
New episodes will still air on Tuesdays, so you'll definitely want to SUBSCRIBE to our YouTube channel if you haven't already done that.
Just click on the red SUBSCRIBE button on the home page of our channel and you'll be all set.
(That's a picture of what our home page looks like down below.)
You'll get a little note every time I upload a new video – and you won't miss a n y t h i n g!
There's another reason I'm making some changes, but I can't spill the beans just yet. 
I promise you're gonna L-O-V-E it, though!! 😉
In the meanwhile, I have a date for Lavender Fields…
We'll get together on Zoom to stitch Cathy Horvath-Buchanan's delightful design.
That's a picture of it down below.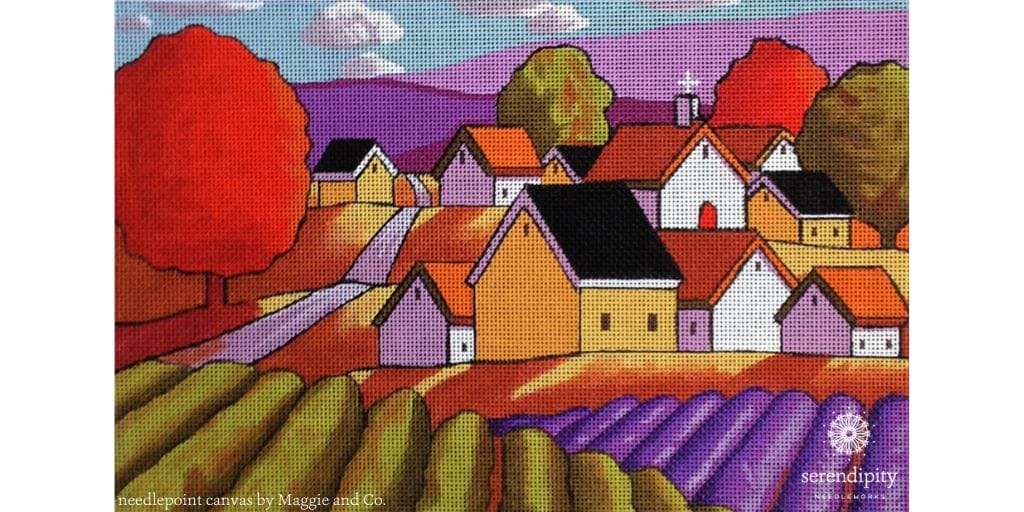 Stitching sessions will be on 3 consecutive Saturdays in February: February 13, 20, and 27. We'll gather at noon CST and will wrap up by 5:30 p.m. CST each Saturday. And, as always, you can expect oodles of "lagniappe" when you stitch with me. (That means there will be lots of surprises that will definitely put a smile on your face and some pep in your step.)  😉
Space is limited and registration is first-come, first-served. We already have a list of people who are eagerly awaiting the details.
If you want to add your name to the waitlist, please click here to send an email to our Help Desk. Rylie will take care of you. 🙂
Just tell her that you want to get the information about Lavender Fields and we'll do the rest.
We'll open registration next week – on Friday (the day after Thanksgiving)…
so keep an eye out for a special email with the link to sign up.
(And click here to sign up for our weekly emails if you don't already receive them.)
Alrighty, my friend – that's all for now.
Have a terrific rest of your day and I'll see you soon!
Until then, happy stitching…
XOXO!!