One of my favorite threads from our friends at Rainbow Gallery is Entice. It's a gorgeously glittery thread that you can use to add all kinds of sparkle and shimmer to your needlepoint canvases. Want to learn a little more about it? Terrific! Let's dive in…
Entice is a 67% rayon/33% polyester semi-metallic thread. Each card of Entice has 12 yards/10.9 meters. There are currently 327 brilliant colors of Entice. It's made in the United States and boasts being hand washable, but I always recommend testing first.
New to using rayon threads?
Entice is a good "first" one to try. Rayon thread is usually very slippery, which can make it quite difficult to manage. Because Entice has a polyester metallic blending filament braided in with the strands of rayon, it's much easier to work with.
Here are just a few of the luscious colors of Entice. You can see the matching blending filament twisted in with the strands of rayon in the picture below…

The only downside of using this thread is that it has a wee bit of a tendency to snag. To resolve that problem, use a salt or sugar scrub on your hands before stitching. And be extra careful when you put your project away. (I like to keep my PIPs in a cotton pillowcase.)
Alrighty – back to our featured thread…
So, just exactly what is rayon?
It's a man-made fiber, but it's not 100% synthetic.
How can that be? Well, it's made from the "regenerated" cellulose of wood pulp or cotton. The multi-step process can produce fibers that imitate cotton, linen, and silk. Most rayon needlework threads are produced to mimic silk.
Rayon absorbs dye very readily and the results are stunning. Clear vivid colors are a hallmark of rayon. And it's relatively inexpensive to produce, so rayon threads are less expensive than their silk counterparts.
But rayon has its disadvantages, too. Aside from being harder to work with than silk or cotton, rayon has a tendency to "bleed" when it gets wet, so you'll definitely want to test it on a doodle canvas before using it on your projects. It's also not a particularly strong fiber, especially when exposed to light or moisture (i.e., high humidity) over a period of time.
Rainbow Gallery suggests the following uses for Entice…
Needlepoint: 14 – 18 mesh canvas
Long Stitches: 13 -18 mesh canvas
Cross Stitch: 11 – 16 count fabric
Entice adds sparkle and pizazz to all kinds of canvases – from stockings and stand-ups to ornaments and framed pictures. I recommend using short stitches when working with Entice, though, since it does have a slight tendency to snag.
All of the letters on the apple are worked in Entice. (The canvas is "Apple Sampler" by Birds of a Feather Designs.)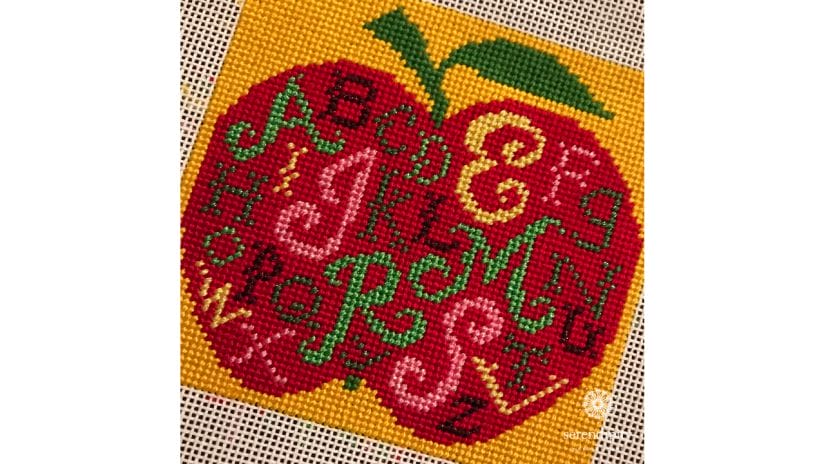 When working with Entice, cut your pieces no longer than 18 inches and remember to slide the eye of your needle down the length of your thread as you stitch. This will prevent the eye of the needle from fraying/cutting your thread. Use Entice "as is" straight off the card. There's no need to use a laying tool when working with this thread. If you experience unraveling, treat the ends with Fray Check or a Thread Zap.
Below are a couple of examples of what Entice looks like stitched on 18 mesh needlepoint mono canvas…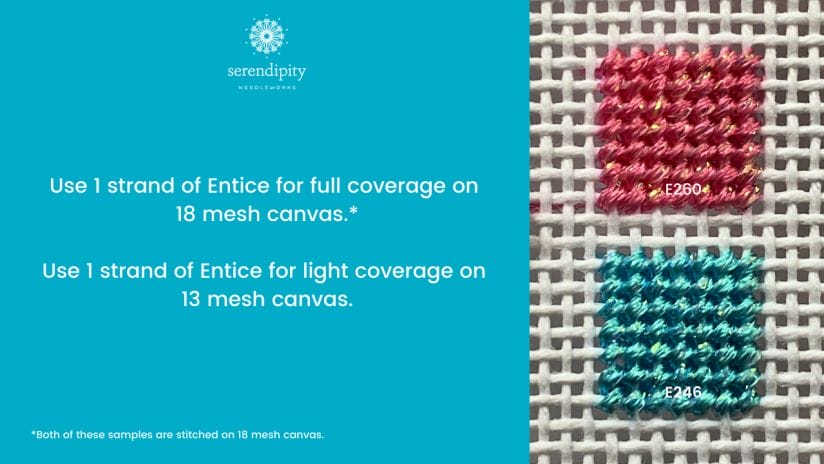 Some additional ideas for using Entice on your painted canvases include…
bodies of water
snow
dewdrops
rain
fish
bugs
snakes
birds
flowers
leaves/greenery
Santa's sleigh
Rudolf's nose
angel wings
peppermint and other candies
clothing
borders
backgrounds
Alrighty, my friend. That brings us to the end of our look at Entice. I'm so glad you joined me and I'll see you again next week…
XOXO!

PS: Remember, we gather every Tuesday afternoon at 2:00 p.m. CST on our YouTube channel. (You may also watch on our Facebook page.)