Well, hello there!
I'm so happy to have you here with me today. This whole month has been about different stitches you can use for the flowers on your needlepoint projects. And today, I'll wrap it up with a bow by sharing another terrific stitch + some of my favorite floral canvases. (Oh – and I have a few more pictures from our visit to Monet's Garden to show you, too… sound good?)
One of my all-time favorite needlepoint stitches is the double straight cross stitch.
It's super fun to do and it's really easy, too. It's a medium size stitch, so you'll need enough space to establish the pattern on your canvas. (Remember, if you can't work three repeats of the stitch, it's too big for the area.)
Here's the diagram for you…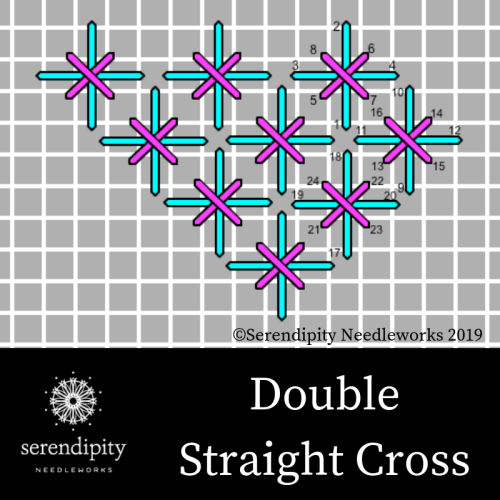 Work each double straight cross stitch as a unit.
Not sure what a unit is? No worries. I'll explain.
You see, a stitch unit is the stitches that create the individual portions or sections of the overall pattern. For example, in the double straight cross stitch, it's one upright cross stitch topped with a small standard cross. Take a peek at the diagram below for a visual…
You can use the double straight cross stitch for flower petals or clusters of flowers.
It's especially pretty when you work it in multi-color or tonal thread, like Watercolours from The Caron Collection. Weeks Dye Works and Threadworx also have some lovely options. My best suggestion is to try out different kinds of threads – mixing and matching as you go – on a doodle canvas.
Now, whaddya say we take a peek at some floral canvases – in case you need a new project for the summer. 😉
Here are just a few beauties that I'd L-O-V-E to stitch…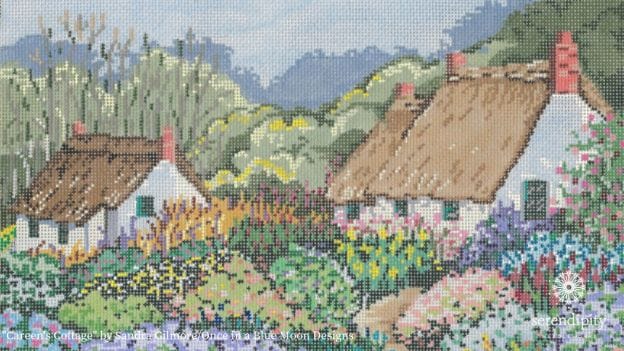 And, of course, this one that I already showed you over on Instagram…
You do follow me on Instagram, don't you?! 😉
And to give you some real-live inspiration straight from the master himself, here are some pictures from the garden in front of Claude Monet's house in Giverny…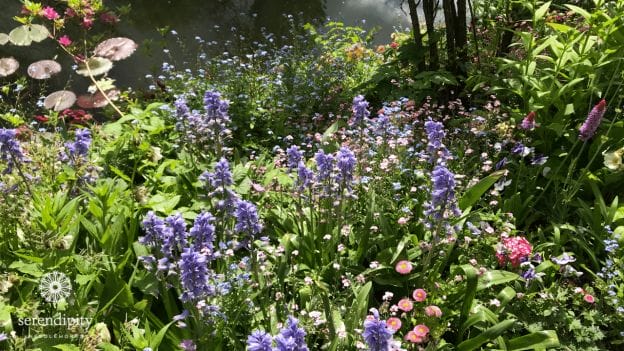 Do you have a floral canvas in your stash? Or are you working on one now? I'd love to know! Share a picture with me here.
Are you on our Serendipity Needleworks NeedleNotes list? That's where we share tips, ideas, events, and cheer each other on and I'd love to have you join me, so click here to subscribe.
I can't wait to see you on the inside!
XOXO!


PS: For more stitches that you can use for the flowers on your needlepoint projects, be sure and check out this post.