This week's destination on our 2020 Spring  Threadventure Garden Tour is simply spectacular – especially at this time of year. I'm super excited to share where we're going today, so hop aboard the Serendipity Express with me, and let's take our magical virtual vacation tour bus to our second stop, Magnolia Plantation and Gardens.
And here we are!
Magnolia Plantation and Gardens is just outside of Charleston, South Carolina, in the Carolina Lowcountry.
Thomas and Ann Drayton established this sprawling estate on the banks of the Ashley River in 1676 and their descendants still live there today.
The earliest gardens were planted in the late 1600s and they continued to expand throughout the 1700s. But it was the work of John Grimké Drayton, in the early to mid-1800s, that resulted in the emphasis being placed on highlighting the natural beauty of the site.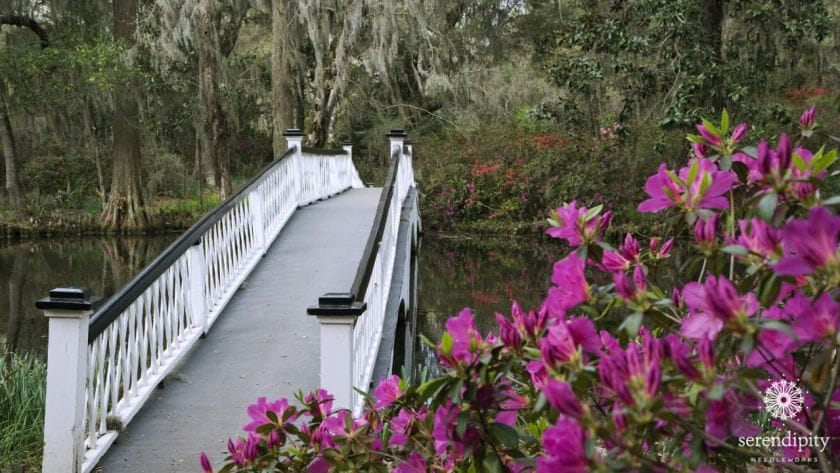 And the Lowcountry is one of the most stunning places you'll ever visit…
Ancient live oaks, dripping with Spanish moss, keep watch like sentries, while azaleas and camellias dance across the landscape in a kaleidoscope of color from winter through spring.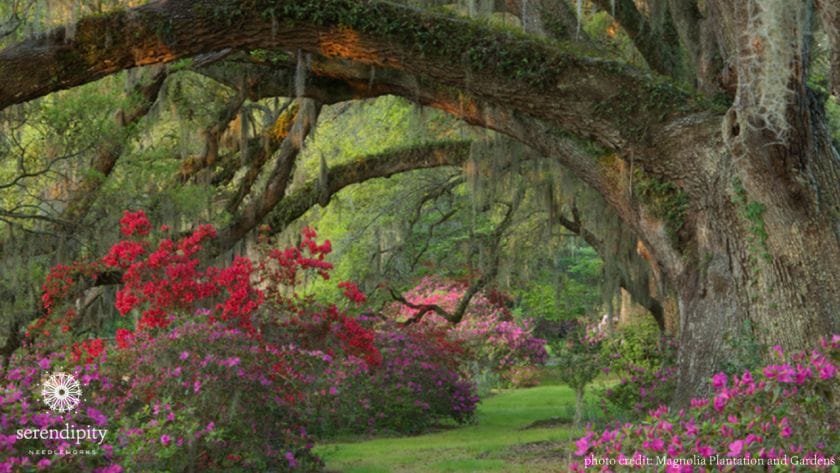 The very first azaleas in America are right here, courtesy of John Grimké Drayton.
Mr. Drayton is also among the first to have used camellias in the great outdoors.  In fact, Magnolia Plantation's extensive collection of azaleas and camellias are what brings distinct notoriety to the garden – not the native Southern Magnolia for which the plantation was named. Opened to the public for the first time in 1870, Magnolia Plantation and Gardens have developed into one of the greatest public gardens in America. This beautiful setting is also home to the last large scale romantic-style garden in the United States.
And our stitch this week, the fancy cross stitch, is a great choice for flowering shrubs…
like azaleas and camellias. The fancy cross stitch isn't hard to execute, but you definitely need to keep an eye on your stitch diagram to keep your place.
This is actually a combination stitch, where two stitches come together to create a new stitch. The first step consists of Smyrna crosses, as you see in the diagram below. Work each Smyrna cross as a unit before moving across the horizontal row.
And after you complete step one, it's time to add the "fancy" part – the standard cross stitches. Remember to work each cross stitch as a unit before moving along to the next one. Follow the diagram below for proper stitch placement.
The fancy cross stitch is medium size stitch, so it'll require a fair amount of space to establish the pattern.
I'm using Soie Perlée and Waterlilies to work this stitch.
Soie Perlée is a 3 ply twisted filament silk that is incredibly smooth and lustrous. There are 291 luminous colors available and each spool holds 17.5 yards. It's made of the finest quality of raw silk which gives it an unrivaled sheen and softness. I'm using one strand of Soie Perlée in a #22 tapestry needle to work step one on a piece of 18 mesh needlepoint canvas. The rich green color mimics the evergreen leaves of an azalea shrub.
And now it's time to add the tiny flowers! 🙂
For those, I'm using Waterlilies by The Caron Collection. Waterlilies is a twelve-strand divisible hand-dyed variegated silk thread. There are 254 exquisite colors of Waterlilies silk embroidery floss and each skein has 6 yards. I'm using two strands in a #22 tapestry needle to work step two of the fancy cross stitch. I recommend that you use a laying tool when working with more than one strand of Waterlilies.
I've had so much fun sharing this delightful stitch/thread combination with you here today.
Now, whaddya' say we check into our lovely B&B in historic downtown Charleston…
But before you go, be sure and tell me how you might use the fancy cross stitch on one of your needlepoint canvases. Share it with me in the comments below… do you have a particular project in mind?
And please join me for another fun-filled episode of Needlepoint TV™ this afternoon at 3:00 p.m. CDT over on the Serendipity Needleworks Facebook page. (We gather there every Thursday afternoon.)
Until next week, happy stitching!
XOXO!!!

PS: If you missed last week's stop, click here to catch up.