Hello, lovely…
How's every little thing with you? Splendid, I hope! June is off to a terrific start here in Tuscaloosa. I'm finally getting around to spring cleaning the porch. (I'll share a picture with you on Instagram just as soon as I finish.) I can hardly wait to be able to take my needlepoint out there on the swing. I'm working on a belt for Rick (shh – it's a surprise!) and I just stitched one for my nephew, Cameron. (Do you see a pattern beginning to emerge? Tee hee!) I like to use the binding stitch on the edges of belts because it adds such a nice finishing touch.
And since I've had some requests for how to do the binding stitch, I thought it would make the perfect blog post topic for this week…
You can use the binding stitch on cuff bracelets, coasters, purse straps, pet collars, key fobs, and lots more, too! My friends at Hill Top Leather Shop do a terrific job and they've been finishing belts and pet collars for me for several years. They're graciously allowing me to share pictures of their fantabulous work with you here. Isn't that purse strap in the picture above just adorable?
Let's chat a minute about why you should use the binding stitch.
The binding stitch creates a sturdy edge for your needlepoint belt (or whatever similar project you may be stitching). Why is that important? Well, the edges of a belt – just like the edges of any wearable – get a lot of abuse. Just think about how much friction there is between a belt loop and a hand-stitched belt. And there's not just one belt loop on a pair of pants… you'll usually find seven!
So, how do you do the binding stitch?
Terrific question! It's really not hard at all. In fact, it's almost hypnotic once you get the hang of it. It should only be done after your project is completely stitched, though. Now, whaddya' say we dive in?
First, secure your thread under some stitches on the back of your work. I like to use the same thread for the binding stitch that I used as my background thread.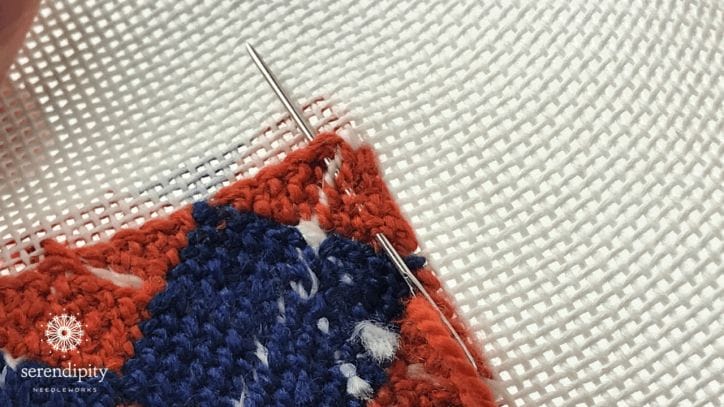 Flip your canvas back over so that the front is facing you. Bring your needle and thread to the front at the top of the row, two threads over from the end of the needlepoint.
Then, fold the unstitched canvas to the back so that the top row of your needlepoint is at the top edge. 
Now you're ready to begin working the binding stitch.
With the back of the canvas facing you and working from right to left, begin by making a whip stitch over the canvas. Next, make two more whip stitches in the next two available canvas holes. Be sure that you're going straight through the canvas – and that you're not piercing your work on the front side. (Work the binding stitch over two canvas threads, or one empty hole.)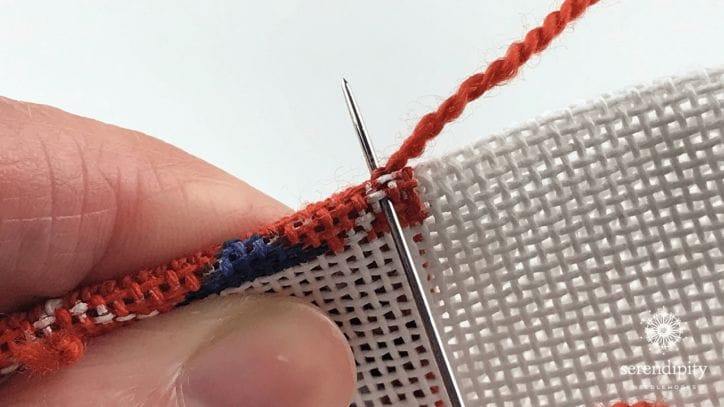 Once that's complete, you'll work back three…
then up to the first available empty hole.
And back three, then up to the first available empty hole. This is where the rhythm kicks in – back three, up one, back three, up one, and so on, until you reach the end of the row. The picture below shows what the binding stitch should look like.
I made a handy downloadable step-by-step guide for you, too. Just click the button below to get your copy.
And be sure to tag me when you share pictures of your belts, pet collars, key fobs, and other projects featuring the binding stitch. (Not sure how to tag someone in a picture on Instagram? Click here for instructions.)
That's all for now, dear friend. I'll see you on Thursday at 3:00 p.m. CDT for the next episode of Serendipi-TV.
I hope you have a wonderful week.
XOXO!