Are you ready for the 2020 Spring Threadventure Garden Tour? Me, too! We're gonna have soooo much F-U-N! Hop aboard the Serendipity Express with me and let's ride our magical virtual vacation tour bus to our first stop – the Fairchild Tropical Botanic Garden in captivating Coral Gables, Florida.
And here we are…
The Fairchild Tropical Botanic Garden houses an eclectic collection of rare tropical plants – from palms and cycads to flowering trees and vines. Robert H. Montgomery established the garden in 1936 and named it after his friend, notable plant explorer David Fairchild. Landscape architect William Lyman Phillips was the designer of the garden. It opened to the public on March 23, 1938.
I'll bet you're wondering what we're gonna explore here, aren't you? I thought you might be. 😉
The picture below (and the one above) are your first clues.
The Fairchild Tropical Botanic Garden is home to more than 1000 palms…
and that's what we're going to take a closer look at here today.
The Montgomery Palmetum is a collection of palms from all parts of the world. In fact, it's the most important palm collection on earth. Imagine that!
Palms have a variety of growth "forms" – some are climbers, while others are more shrub-like. And, of course, there's the palm tree. Most palms are easy to identify by their large compound evergreen leaves – commonly referred to as fronds – bunched together at the top of an unbranched stem.
When you think of palms, you most likely picture swaying palm trees on a tropical beach, like the one you see on the canvas below. But palms thrive in a variety of habitats, including both rainforests and deserts.
And now that you have a little bit of background about palms…
whaddya say we dive in and take a look at a terrific stitch for palm tree fronds?
The Fish Bone stitch is a wonderful option for palm fronds.
It's super easy to execute – work the stitches in pairs – just like you see in the diagram below and you'll be golden!
Remember, a stitch diagram is like a little road map that you can use to guide you as you stitch. Each horizontal and vertical line represents a canvas thread. The numbers indicate the order in which you should execute the stitches, with odd numbers designating when you should bring your needle to the front of your canvas and even numbers determining when you should take your needle to the back of your canvas.
Now, back to the Fish Bone stitch…
It's a largish stitch, so you'll need to have ample room to establish the pattern on your canvas. Remember – if you can't execute three repeats of the stitch in the area, the stitch is too big and you need to find a different one to use.
The Fish Bone stitch isn't difficult to execute, but you do need to pay close attention to what you're doing. It's relatively easy to compensate, too, so that makes it a "winner, winner chicken dinner" in my book.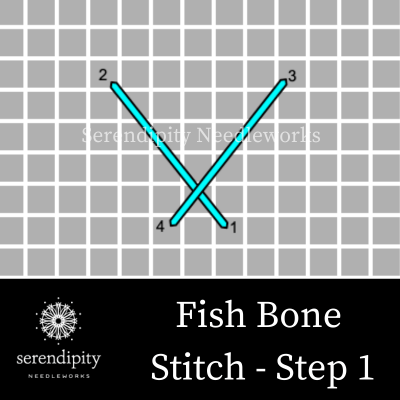 Generally, you should work the Fish Bone stitch in vertical rows, but you may also adjust the placement of your stitches to follow the curving lines of a painted canvas. And, you can turn the stitch upside down to convey additional directionality. The best way to execute the stitch in different directions is to turn your canvas.
I'm using Straw Silk to work this stitch.
Straw Silk is a luxurious hand-dyed/hand-painted 100% silk ribbon-type thread. It works equally well on both 13 and 18 mesh canvas. Each skein holds 11.1 yards and there are 101 glorious colors available. You may use it "as is" off the skein to create rough textures, like tree bark and palm fronds. Or, you may choose to "iron" it for a more satiny appearance. (NOTE: Do not count on this thread being color fast if it gets wet.)
I'm using one strand of "Ante Up" in a #22 tapestry needle to work my stitch sample on a piece of 18 mesh needlepoint canvas. If you want to practice the Fish Bone stitch on a piece of 13 mesh canvas, simply use the same single strand in a #22 tapestry needle.
You'll definitely want to use a laying tool when working with this thread, especially if you want a sleek, smooth finish.
Alrighty – that brings us to the end of our visit to the Fairchild Tropical Botanic Garden.
It's been so much fun sharing this stitch/thread combo for palms with you.
Let's check into our lovely hotel for the night and enjoy some stitching time out by the pool…
But before you go, be sure and tell me where you might use the Fish Bone stitch.
Do you have a particular project in mind?
Please tell me about it in the comments box below. (Don't be shy…I  ❤️ hearing from you and I read every single comment!)
Alrighty – that's all for now…
Until next week, happy stitching!
XOXO!!!

PS: I'll share pictures of my stitched sample during today's episode of Needlepoint TV™ on the Serendipity Needleworks Facebook page. We'll gather together at 3:00 p.m. CDT, as usual. 😉