Hi there! Welcome to week four of the 2020 Spring Threadventure Garden Tour! Today's destination is breathtakingly beautiful. It's another one of those American treasures that I recently discovered. Hop aboard the Serendipity Express and let's take our magical virtual vacation tour bus to Longwood Gardens…

And here we are!
So, how did Longwood become a famous garden?
Much like Magnolia Plantation and Gardens, the story of Longwood reaches waaay back in time – more than 300 years, as a matter of fact. You see, it was in 1700 that a farmer named George Peirce bought 402 acres of land in southeastern Pennsylvania, not too far from Philadelphia.
Mr. Peirce and his son, Joshua, cleared and farmed the land for many years. In 1730, Joshua built a brick farmhouse that still stands today. The conservatory that you see in the picture above connects to the original farmhouse. I'll tell you a little more about it during this week's episode of Needlepoint TV™. (Be sure and read all the way to the end to find out how you can join us.)
Fast forward nearly 70 years…
and you'll find that Joshua Peirce's twin grandsons, Samuel and Joshua, have inherited the farm and have begun pursuing an interest in natural history, including planting an arboretum. By the mid-1800s, that arboretum included one of the finest collections of trees in the United States and had become a popular place for local residents to gather together for picnics. Sadly, subsequent heirs to the property allowed the arboretum to deteriorate to such a state that a local lumber mill was hired to clear cut 41 acres of trees in 1906.
But Pierre DuPont swooped in and saved the trees!
He purchased the land that is now Longwood Gardens – to preserve the astounding collection of trees. Of course, there's a whole lot more to see at Longwood than just the arboretum, but we'll save that for another visit.
This week, we're going to explore a stitch and thread combination that you can use to stitch trees on your needlepoint canvases like those you see on this cutie-pie canvas by Maggie and Co.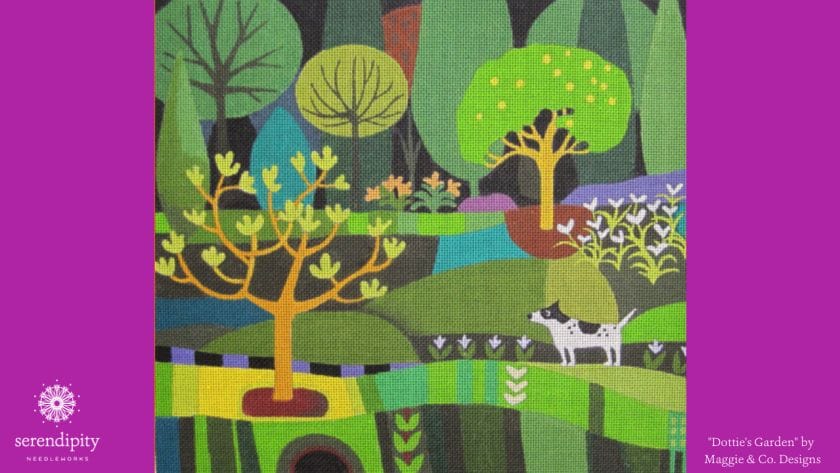 The damask stitch creates eye-catching treetops…
especially when you use an overdyed thread.
It's super easy to execute – and it's also easy peasy to compensate. The damask stitch is a terrific choice for beginning stitchers (or if you've been away from needlepoint for a while).
You have oodles of options when executing this stitch. Use two colors or textures of thread – one for the "number" steps and one for the "letter" steps – to create lots of depth and visual interest. Or choose to work the stitch in a single thread for a simple, yet effective look. Follow the numbers and letters on the stitch diagram above and you'll be golden!
The damask stitch is a slightly directional stitch, depending upon which way you slant your stitches. It suggests a wee bit of movement, too. That makes it perfect for treetops. It's a medium-size stitch so you'll need to be sure that you can work three repeats of the pattern in the space.
I'm using Threadworx overdyed cotton floss to work the damask stitch.
Threadworx overdyed cotton floss is a premium quality six-strand embroidery floss. Each skein of long-staple 100% Egyptian Giza cotton holds 5 yards. There are 272 eye-popping colors currently available for your stitching pleasure. Some are wildly variegated, while others are more monochromatic. (I like to use the subtly shaded greens for treetops.)
This thread works best on 14 – 18 mesh needlepoint canvas. My personal preference is to use it on 18 mesh canvas, though. Remember, since this is a divisible thread, you'll want to strand it before threading it into your needle.
What is stranding?
Terrific question! Stranding means to separate the individual strands of a divisible thread, and then put them back together again.
And when you're working with an over-dyed thread, like Threadworx, match up the ends in the same order that you separated them so that the colors line up appropriately.
Here's another tip for you, too – and it applies to all over-dyed threads…
When you prepare to stitch with each subsequent length of thread that you cut, thread your needle on the opposite end of the cut you just made so the color runs remain in sequence. Be careful to avoid leaving long tails when starting or ending a thread, too, since that also affects the color repeat.
I'm using four strands of Threadworx overdyed cotton floss (Tropical – 11611) in a #22 tapestry needle to work my damask stitch sample on a piece of 18 mesh needlepoint canvas.
You could also use Watercolours to work this stitch. Use 2 strands on 13 mesh and 1 strand on 18 mesh.
I hope you'll join me for another fun-filled episode of Needlepoint TV™ this afternoon.
We're going to chat some more about Longwood Gardens and I'll share my stitch sample with you, too! In case you're new to the Serendipity Needleworks family, we gather every Thursday afternoon – at 3:00 p.m. CDT – and talk about all things needlepoint. Needlepoint TV™ is broadcast from the Serendipity Needleworks Facebook page. 🙂
Alrighty – that brings us to the end of our visit to Longwood Gardens.
It's time to check in to the Inn at Whitewing Farm. It's a lovely B&B located in West Chester and I think you're really gonna like it.
Wanna join me for some afternoon stitching in one of those chairs down by the lake? Grab your project bag and I'll meet you there! 😉