Hi there! Ready to hit the road to our third destination on the 2020 Spring Threadventure Garden Tour? Terrific! Me, too!  Hop aboard the Serendipity Express with me and let's take our magical virtual vacation tour bus to a spectacular topiary garden like no other in the world…

The Topiary Garden at Old Deaf School Park in Columbus, Ohio…
So, what does this painting have to do with our garden tour?
I'm ever so glad you ask! 🙂
You see, the Topiary Garden at Old Deaf School Park is the only garden in the world that is based on a painting – the one you see above. I'm sure you're familiar with it. It's quite famous. It currently resides at the Art Institute of Chicago and it's by the renowned French artist, Georges Seurat. The name of the painting is "A Sunday Afternoon on the Island of La Grande Jatte".
Pretty cool, huh?!
The topiary figures in the garden represent the subjects in the painting.
James and Elaine Mason, local Columbus artists, are responsible for taking their idea for a topiary garden and bringing it to life as part of AmeriFlora 1992, a ginormous horticultural exhibit created to commemorate the 500th anniversary of the founding of America by Christopher Columbus. It took four years – from 1988 until 1992 – to complete the sculpting of all of the shrubs.
Mr. Mason is an artist who works with cast bronze, welded steel, wood, and stone as his mediums. He created the bronze skeletons for each topiary which were subsequently set in concrete. Mason helped plant some of the shrubs and his wife, Elaine, a topiary artist, shaped them into their current form.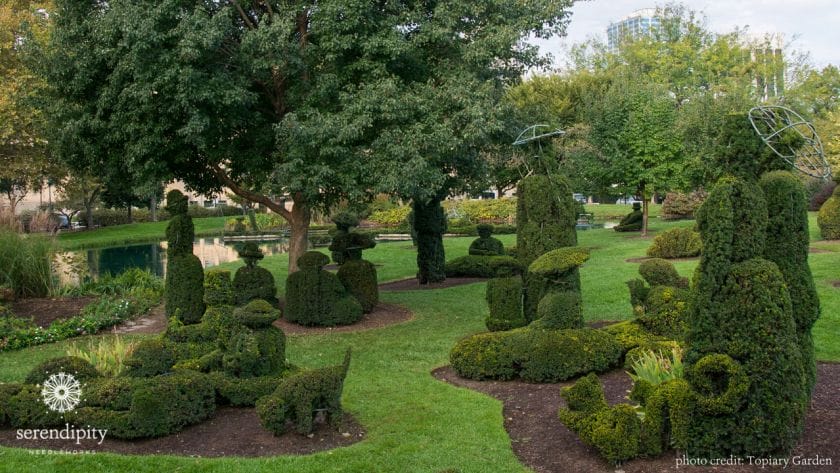 The tallest topiary in the park is 12 feet tall…
and the topiaries decrease in size as they go farther back in the landscape. This perspective creates depth so that the park looks more like the actual painting.
The Topiary Garden at Old Deaf School Park, in downtown Columbus, features topiaries of 54 people, 8 boats, 3 dogs, a monkey, and a cat. The grounds are part of the old Ohio School for the Deaf, hence the name.
Here's one more picture of the Topiary Garden…
Isn't it lovely? The boats are among my favorites in this amazing place. If you scroll back up to the top of the post, you can find the subjects they represent in Seurat's painting.
This garden has to be one of the coolest places I've ever seen.
And if you like to stitch topiaries – like this one from Kelly Clark Designs…
you're gonna L-O-V-E this week's featured stitch. 😉
This week's stitch, the Kennan stitch, is a terrific option for shrubs and bushes.
When you first look at the diagram of the Kennan stitch, it might look a wee bit familiar. That's because it's very similar to the Nobuko stitch. The Kennan stitch stands up taller, though, and it's not quite as wide as the Nobuko stitch.
Let's take a peek at the stitch diagram…
Remember to pay attention to the numbering system and keep in mind that a stitch diagram is your road map to success with any decorative stitch.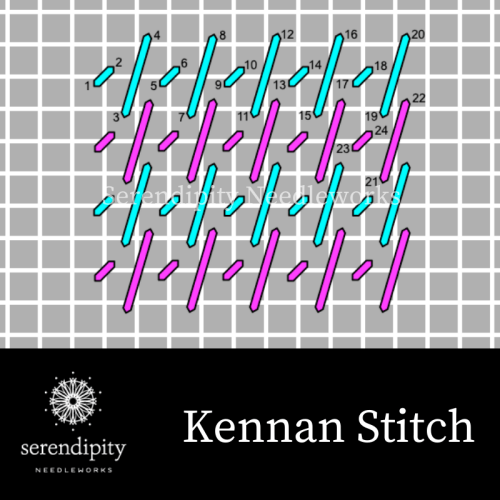 Begin on the left edge of the area you want to cover and work your way across in a horizontal row. When you get to the end of the row, drop down and work your way back across the row from right to left. Continue until you fill the area you wish to cover.
The Kennan stitch is a smallish stitch so it'll work on just about any size canvas – from ornaments to Christmas stockings. It's also a terrific background stitch.
I'm using Watercolours to work this stitch.
Watercolours is a hand-dyed divisible Pima cotton thread from the Caron Collection. It comes in oodles of gorgeous colors and each skein holds 10 yards. Since it's divisible, you can use it on both 13 and 18 mesh needlepoint canvas.
I recommend stranding Watercolours so that it lays smoothly on your canvas. (Click here to read about stranding your thread.)
I'm using 1 strand of Watercolours in a #22 tapestry needle on 18 mesh canvas to work my stitch sample, but if you're working this stitch on 13 or 14 mesh canvas, use two strands to achieve full coverage. Remember to use your laying tool, too, if you're working with multiple strands in your needle.
I've had so much fun sharing this verdant stitch/thread combo with you!
We've had a fun-filled day tromping around in the Topiary Garden, but no trip to Columbus is complete without a stop at Graeter's Ice Cream Parlour. Whaddya' say we grab ourselves a cone of the world's best ice cream?! 😉
My favorite flavor is double chocolate chip, but they have oodles of other dee-lish flavors, too: Madagascar Vanilla Bean (the BEST vanilla ice cream I've EVER tasted!), Salted Caramel Chocolate Chip, Brown Butter Bourbon Pecan, Oregan Strawberry, Chunky Chunky Hippo…
In fact, you can order whatever you want from their website!
Remember – the Kennan stitch is a good option for more than just topiaries. You can use it for all kinds of shrubbery and treetops, too. Be sure and tell me how you might use the Kennan stitch on one of your needlepoint canvases
I love hearing from you and I read every single comment, so don't be shy. 😉
Until next week, happy stitching!
XOXO!!!

PS: I'll share pictures of my stitched samples over on the Serendipity Needleworks Facebook page and on Instagram.
PPS: Are you on our Serendipity Needleworks NeedleNotes list? That's where we share tips, ideas, events, and cheer each other on and I'd love to have you join me, so click here to subscribe. I'll see you there! 😉