Hello there, lovely!
Are you ready for this week's destination on our encore Threadventure tour? Terrific! Hop aboard the Serendipity Express with me and we'll take our magical virtual vacation tour bus to our next stop, beautiful New Orleans! Wondering what we'll be exploring? I'll give you a hint…we'll hit the ground running in the Garden District where we'll explore one of the exquisite old houses.
And here we are…Yippee!!!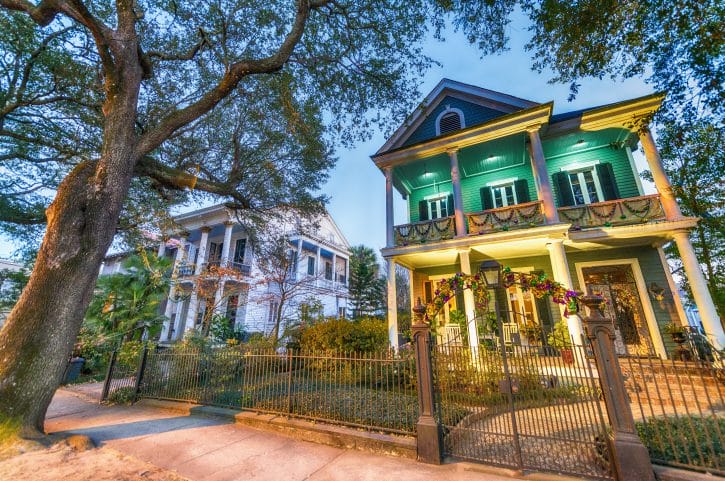 Did you know that the Garden District is one of the best-preserved collections of historic houses in the South?
Originally, there were only a couple of houses per block, with each house surrounded by a large garden (hence the name Garden District), but in the late 1800s, some of those large lots were subdivided.
That's when late Victorian era homes began popping up and today, you'll see a unique pattern with any given block having a couple of mansions dating from the early 1800s surrounded by "gingerbread"- decorated abodes. And so, the "Garden District" is known more for its architectural treasures than for its gardens.
The
Mosaic

stitch is a great choice for a variety of architectural details on a house.

Not only is it a really good stitch to use for exterior walls, but it's also pretty terrific for window moldings and frames, door frames, and decorative accents like those you see over the windows and around the overhangs on that house in the picture above.

Mosaic stitch is one of the simplest of all the decorative stitches to execute. And that makes it perfect for stitchers of all skill levels. Another reason it's in my "go-to" repertoire is that it's a small stitch, so it'll fit just about anywhere on your needlepoint canvas.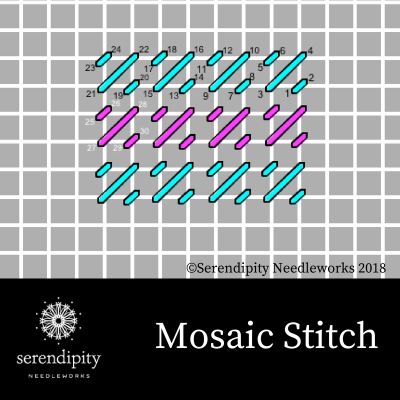 I'm using 
Rainbow Persian

to work this stitch.

Rainbow Persian is a single strand Persian wool that you can use on 10 – 18 mesh needlepoint canvas. Use a single strand on 18 mesh, 2 strands on 13 mesh, and 3 strands on 10 mesh. Use it "as is" directly off the card.

There are 95 amazing colors of Rainbow Persian and each card has a generous 20 yards. Because there are so many beautiful colors – and because the entire palette is so luscious – you could easily work an entire canvas in this thread. Since it's 100% wool (and quite durable), it's a particularly good choice for any project that will "live" in a place that gets a lot of use – like a pillow on the family room sofa.

It's been so much fun sharing this terrific stitch for beautiful architectural details on houses with you!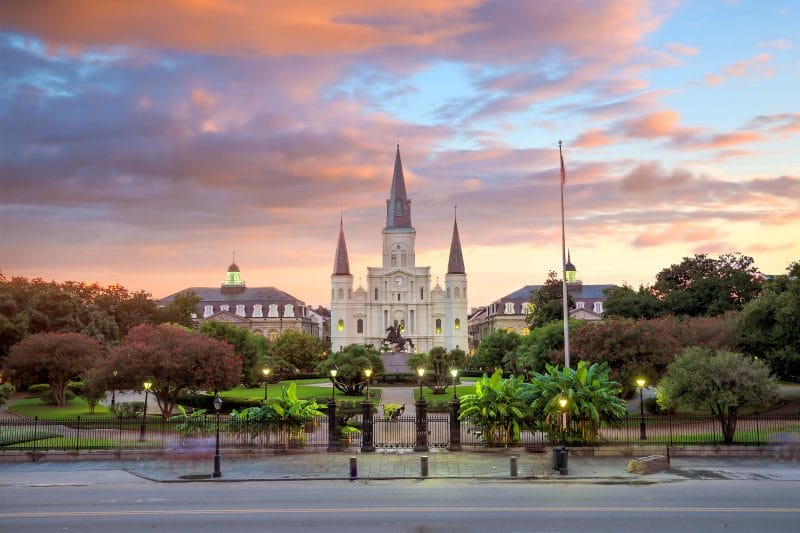 Now, let's hop on board the Serendipity Express and hit the road to our next Threadventure destination…
The Grand Canyon!
Are you on our Serendipity Needleworks NeedleNotes list? That's where we share tips, ideas, events, and cheer each other on and I'd love to have you join me, so click here to subscribe. I'll see you there! 😉
Until next time, happy stitching!
XOXO!!!

PS: I'll share pictures of my stitched samples over on the Serendipity Needleworks Facebook page and on Instagram, so be sure and check them out.