Well hello there, lovely!
I hope you're having a happy week. We're about to kick off the 2019 Summer Threadventure inside The Stitcher's Club and I'm super excited about our destination. We're headed across the pond to jolly old England (and Wales and Scotland) for a 7-week virtual vacation. It's a members-only event, but I have a really fun surprise in store for you, too…
We're gonna spend the next several weeks revisiting stitches and threads you can use on your needlepoint canvases from the original Threadventure. Every week, I'll share a fun destination and a stitch/thread combo with you right here.
I have some exciting news to share with you about the Threadventure in the early fall, too, so be sure and keep an eye on NeedleNotes for details.
You're not getting NeedleNotes?! Well, click here to sign up so you don't miss anything. And if you want to learn more about joining The Stitcher's Club, click here to find out how to add your name to the waitlist.
Alrighty, ready to dive into our first destination?
Terrific! Me, too!
This week, we're going to beautiful Seaside, Florida.
Have you ever been to Seaside? It's a charming resort town nestled on the Emerald Coast of Florida. (One look at that gorgeous water and you can see why they call it the Emerald Coast!)

And the water isn't all that's drop-dead gorgeous in Seaside. The sugar-white beaches are stunning, too!
Whaddya' say we dive in and take a look at a terrific needlepoint stitch for sand?

Sandy beaches can have a variety of textures. Sometimes, sand is smooth – like at the water's edge. Sometimes it's wavy and windswept as if nobody's been on the beach in a hundred years. And then, there are those times when it looks all lumpy and bumpy – like millions of people have been on the beach all at the same time!
Today, we're gonna take a look at a needlepoint stitch for sand that's smooth – the

encroached slanted Gobelin stitch

.
It's super easy to execute – and it's also easy peasy to compensate; a great jumping-off place. It's one of those stitches that you can always count on and it's a terrific choice for beginning stitchers (or if you've been away from needlepoint for a while).
Encroached slanted Gobelin is a slightly directional stitch, depending upon which way you slant your stitches and it suggests a wee bit of movement.
I'm using
Rainbow Tweed
to work this stitch.
Rainbow Tweed is a four-ply divisible thread; a blend of cotton (44%), wool (39%), and acrylic (17%). It absorbs dye rather unevenly and that contributes to its heathery look, adding subtle depth to your stitches.
Rainbow Tweed has 59 lovely colors and each card has a generous 10 yards. I recommend using 2 plies of Rainbow Tweed on 18 mesh and all four plies (or "as-is", directly off the card) on 13/14 mesh.
I'll share pictures of my stitched sample over on Instagram. We'll have a new episode of Serendipi-TV on Thursday afternoon at 3:00 p.m.CDT over on the Serendipity Needleworks Facebook Page, too, so please join us!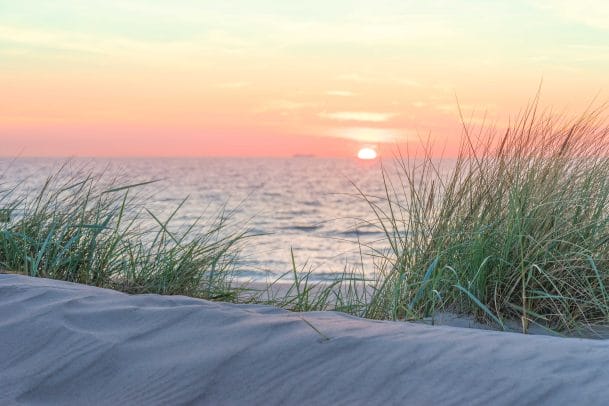 Now, let's hop on board the Serendipity Express and hit the road to our next destination…
beautiful 

Asheville, North Carolina!
Until next time, happy stitching!
XOXO!!!