Watercolours is an ahhhh-mazing hand-painted long-staple Pima cotton thread from the CARON Collection. It's available in a multitude of colors – from subtle monochromatic to more wildly variegated hues. It comes in 10-yard, 40-yard, and 100-yard skeins. My very first experience with variegated threads was with Watercolours, so it has a special place in this stitcher's heart. Wanna learn more about it?  😉
Watercolours is the thread of the month over in The Stitcher's Club, so I'm doing a deep dive into it. I actually had the pleasure of speaking with Lois (Caron) earlier this week. This blog post is the result of that conversation. (The CARON Collection website is also a terrific resource for additional information about their other threads.)
So, let's begin by taking a closer look at just exactly what makes Watercolours so special.
First, it's the only thread on the market (to my knowledge) that features a very unique cable construction. What the heck does that mean? Well, when you pull the thread apart, you can see that two of the strands twist around a single strand that serves as the "core" of the "cable".
And that brings us to the next feature – Watercolours is divisible. That means you can take the strands apart and use each individual strand without compromising the integrity of the thread. (In other words, taking it apart and using a single strand won't negatively affect it.)
In fact, the strands should be separated before you stitch with them, especially if you're using more than one in your needle.
Here are some tips for using Watercolours…
I like to wind the skein into a little ball – just like I'd wind a skein of knitting yarn into a ball before knitting with it. That keeps the flow of colors intact. (I store the ball and the tag in a Floss-Away bag.) Cut pieces no longer than 20″ and remember to strand the thread before using it. If you're using more than one strand in your needle, use a laying tool.
Use one strand on 18 mesh canvas, two strands on 12, 13, or 14 mesh canvas, and three strands on 10 mesh canvas.
And here's one of my favorite uses for Watercolours – couching!  You can use Watercolours "as is" directly off the skein to create an interesting raised texture on your canvas. Couch the Watercolours to the surface of your canvas with cotton embroidery floss in a complementary color. Soooo fun!!
Speaking of color…
let's look at the process that the CARON Collection uses to create all of those luscious colors.
Watercolors is hand-dyed.
It's not over-dyed. So, what's the difference? According to Lois, "overdyeing is dyeing one color on top of – or over – a previously dyed color." In contrast, each skein of Watercolours begins as a skein of natural or white yarn. Colors are carefully blended on the yarns while they're in the dye pot. And I'll bet you're wondering just exactly how they do that, aren't you?
There are a variety of ways to hand dye threads.
Thread artists at the CARON Collection create some of their colors by using a technique similar to that used to tie-dye t-shirts. Sections of the thread are "tied off" and dipped into the dye solution. (Some people refer to that technique as rainbow dyeing.)
Another method is to actually hand paint the dye onto the thread in an artistic "pattern" or color repeat.
Finally, the ombre technique involves dipping the yarn into the dye pot and raising it back up by degrees to achieve progressive color sequences ranging in intensity from dark to light.
A single skein may include anywhere from two to seven different colors. All of the thread-dyeing is done by hand and in small batches. That enables the thread artists to be much more creative in the blending of colors than their larger commercial counterparts.  Of course, that also means each batch of thread that they dye is unique – never quite like the one before it, even though they use the same formulas every time.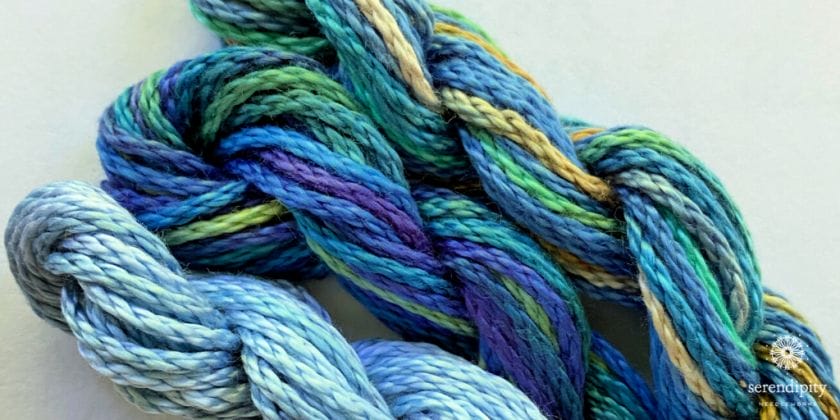 What about dye lots…
I'll bet you're wondering if you can always count on the dye lots to match – and the answer is no. Lois will be the first one to tell you that the creative element inherent in their process makes variations inevitable. While they do follow precise procedures each time they dye a color, lots of factors enter into the picture to make the probability of exactly-matching-dye-lots highly unlikely.
The good news is that when you're stitching with variegated threads, minor dye-lot differences usually don't usually have a detrimental effect. When color consistency is critical, though, you should buy enough thread from the same batch to ensure that you don't run out.
Wondering if Watercolours is color fast?
The short answer is it can't be guaranteed. (Reds are notorious for "running".) It's always best to test threads before stitching with them – especially if you plan to use water in the blocking or finishing process. (Think steaming or misting with a spray bottle.)
The best way to do this is as follows:
Moisten a piece of thread and lay it on a white paper towel. If you plan to steam block your project, briefly hold an iron over the thread and turn up the heat.
If the color runs onto the paper towel, place the skein of thread in very hot soapy water and agitate it until no more excess color bleeds out.
Ivory or Palmolive dishwashing detergent (do not use lemon-scent) are the only ones that the CARON Collection recommends. After washing and rinsing, air-dry the thread.
If threads bleed during the blocking process, immediately rinse and agitate your canvas in a large sink full of cool to lukewarm water (no soap) several times until all of the excess color fades.
I hope that stitching with variegated threads isn't quite as daunting now. My best advice is to take a deep breath, then coax your inner kindergartner out of hiding – and have some F-U-N!
Alrighty, my friend! That's all for now.
Until next time, happy stitching…
XOXO!!

PS: If you're not already a subscriber of the Serendipity Needleworks YouTube Channel, hop over and check it out. We'll be adding new videos very soon, including one of how to wind your Watercolours like I do. 😉