When your project features subtle shading, finding just the right range of thread colors can be a challenge. Enter Needlepoint Inc Silk!
Needlepoint Inc Silk thread is made from reeled silk.
That means the filament used to create the thread is longer than the fibers used to create spun silk thread. Longer filaments are considered higher quality, so reeled silk thread is typically more expensive than spun silk. (You can learn more about the differences between filament silk and spun silk here.) 
Here's a picture of it…
Because Needlepoint Inc Silk thread is reeled silk, it's very strong. It's less likely to pill than its spun silk counterparts, too. That means it's a really good option for your heirloom needlework projects, such as Christmas stockings, birth and wedding samplers, ornaments, etc. 
There are currently 475 luscious colors available. It comes in 5.5 yard/5 meter skeins. 
When you pull a strand from the skein…
you'll notice that there are eight individual strands that you can separate/divide. Use as many strands as you need to get the coverage you want. (IMPORTANT: each  individual strand is made up of two plies which are not meant to be separated.)
Here's a close-up of a skein…

And while we're on the subject of individual strands, a single strand of Needlepoint Inc Silk is slightly thinner than most silk threads. 
I use 4 strands on 18 mesh canvas and 6 strands on 13 mesh canvas when working in tent stitch with the goal of fully covering the canvas. You may find that you need to adjust the number of strands that you use based on your stitch tension.
Here are some stitched samples for you…
Tent Stitch

Vertical and Horizontal Stitches

Diagonal and Oblique Stitches

Other notable characteristics of Needlepoint Inc Silk include…
The loose twist, which means it's a little more limp than other silk threads.

The amazing luster – due to the fact that it's a filament silk, it seems to glow from within. 

It isn't terribly prone to tangling, which is always a good thing. 😉
But the best feature that Needlepoint Inc Silk has going for it, in my opinion, is the amazing range of colors. If you're looking for the perfect palate for creating delicate shading, then this is your thread! Each color in a shade range blends seamlessly with the next.
Here's the Carnation Pink range…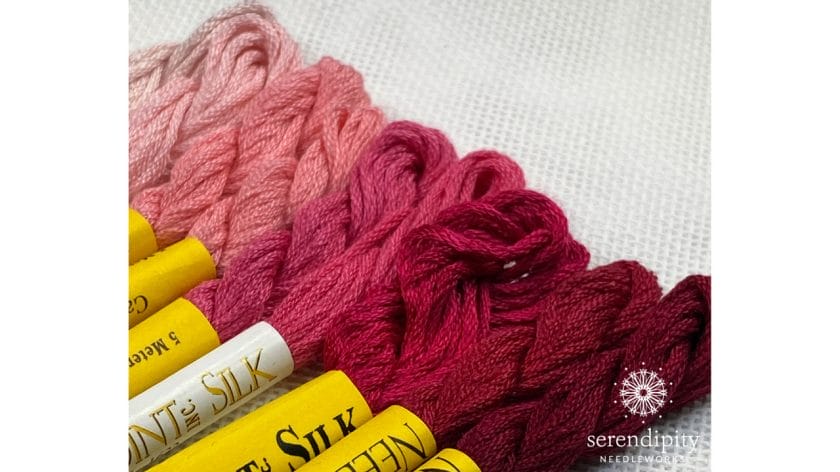 Needlepoint Inc Silk is a terrific option for stitching all kinds of canvases…
From stockings and stand-ups to ornaments and framed designs. It may also be used for pillows, but, as with any stranded thread, be careful when pairing it with decorative stitches that cover more than four canvas threads.

I especially like to use it on these kinds of design components: 
Birds

Butterflies

Clothing

Fish

Flowers

Foliage

Grass

Insects

Ribbons

Water

Backgrounds
I highly recommend giving Needlepoint Inc Silk a try. You might just find that it's your new favorite thread! If your local needlework shop doesn't carry it, you can order it from Needlepoint Inc in San Francisco. (Yep – Needlepoint Inc is actually a shop that has their own line of thread!)
And if you L-O-V-E it, you can order their color card online here. It's a bit on the pricey side, but if you like using stranded silk thread, I believe it's worth the investment because you'll have actual thread samples at your fingertips.
Alrighty – that's all for now, my friend. Thank you ever so much for popping in to read this week's blog post. Have a terrific rest of your day and, until next time…
Happy Stitching 🙂
XOXO…