Fall is such a delightful season. I love being outdoors this time of year. In fact, one of my favorite ways to spend a leisurely Sunday afternoon is taking my needlepoint out on the porch. It would be super fun if you could join me in person, but let's do the next best thing. Let's go on a virtual trek to the countryside while we explore a new stitch together: the medieval mosaic stitch!
Grab your favorite mug, fill it up and let's dive in to some different ways you can use this versatile little stitch on your projects. 😉 
First, let's take a peek at the stitch diagram for the medieval mosaic stitch…
It kind of looks like a bargello pattern that has been turned on its side, doesn't it? 😉
The stitch pattern consists of horizontal straight stitches covering either two or four canvas threads. Working the medieval mosaic stitch in vertical rows makes it easy peasy to establish the stitch pattern. As you can see on the diagram, the short stitches in the first row share canvas holes with the long stitches in the second row. And the long stitches in the first row share canvas holes with the short stitches in the second row.
Looking for visual cues in a stitch pattern helps make it easier to commit the pattern to memory. And when you can do that, you'll add yet another stitch to your stitch repertoire. 🙂 
Pull out your doodle canvas and give it a try.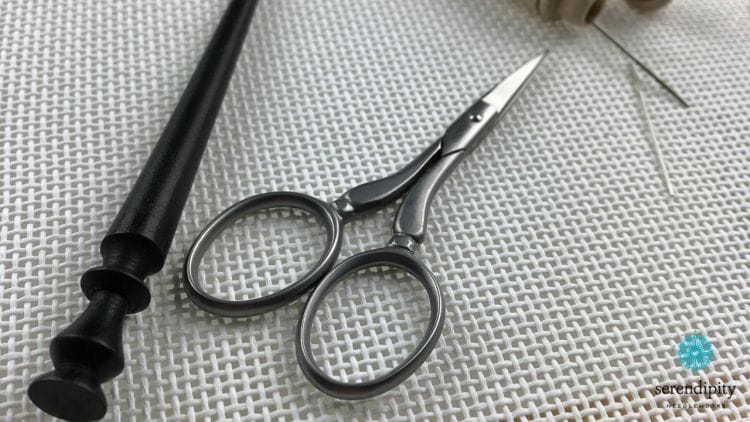 What's that?
You don't know what a doodle canvas is?
Oh my… let me take just a minute to fill you in. A doodle canvas is a blank piece of needlepoint canvas that you can use to test out different stitches and stitch/thread combinations. It's an invaluable tool that you'll come to rely upon when choosing stitches and threads for your projects. You'll want to make sure that you mount your doodle canvas on stretcher bars and use either a tabletop or floor stand to hold it so that both of your hands are free for stitching. 😉 
I like to make my doodle canvases 8" x 8" and I keep both 13 and 18 mesh canvases handy all the time. Your local needlepoint shop ought to be able to set you up with everything you need. 
Alrighty – let's get back to the medieval mosaic stitch.
The medieval mosaic stitch is a medium size stitch, so you're going to need some room to establish the pattern. Remember – you need to be able to get three repeats of any stitch pattern in the space on your canvas in order for it to be a viable option. If you can't, then you need to look for a smaller stitch. 
Wondering what constitutes three repeats of a stitch pattern? That's a terrific question. In the case of the medieval mosaic stitch, it's three vertical rows of what is numbered on your stitch diagram as 1 – 18. 
Let's look at using the medieval mosaic stitch for walking paths and hiking trails first.
I think it's a terrific option because you can actually adjust the size of the stitches in the pattern to create a smaller variation that you can use alongside the original medieval mosaic stitch.
How would that work? Let's use the picture above as an example.
Imagine that it's a needlepoint canvas and you're looking for a stitch for the path. You can use the original medieval mosaic stitch (over two and four canvas threads) for the part of the path that is in the foreground and the middle ground. And then, where the path starts to narrow because it's farther away, you can switch to a smaller variation of the medieval mosaic stitch to create the illusion of depth. (The variation being instead of working the pattern over two and four canvas threads, you could reduce the size of the stitches to cover one and two canvas threads.)
Make sense? Terrific!
Now, let's take a peek at some threads that you might consider using…
Some of my favorite threads for stitching paths and trails include "Wet Clay" (1028), "Shades of Chocolate" (1036), "Indian Brown" (10361), and Rich Chocolate (10371) from Threadworx. Other terrific options include Watercolours "Cocoa" (99), "Clove" (114), "Cedar" (136), and "Mahogany" (174) from the Caron Collection. 
Since the medieval mosaic stitch is a straight stitch, you'll need to use thicker thread than you normally would use – or more strands – to get full coverage on your canvas. That's one of the reasons I frequently use divisible thread for this stitch. 😉 
Next, let's chat about using the medieval mosaic stitch for calm water.
The zigzag pattern of the medieval mosaic stitch implies a slight sense of movement that can you can use to mimic ripples across the surface of a lake – or any calm body of water.
You can really have some fun with threads here. Consider using a thread with some sparkle to mimic the sun glinting off the water. 
Entice and Silk Lamé Braid are two of my all-time favorite semi-metallic threads. The blend of metallic with another thread (rayon/silk) creates a lovely subtle shimmer. Here are a few colors of Entice that you might want to try: "Capri" (E210), "Angel Blue" (E246), "Hawaiian Ocean" (E247), "Classic Blue" (E257), "Crystal Blue" (E269), "Scuba Blue" (E279), and "Azure Tide" (E282).
And here are some shades of Silk Lamé Braid 18: "Dusty Turquoise" (SL213), "Lake Blue" (SL214), "Capri Breeze" (SL221), "Brilliant Blue" (SL222), "Crystal Blue" (SL223), "Forever Blue" (SL225), and "Aqua Bay" (SL237). Silk Lamé Braid is also available for 13 mesh canvas. The color numbers are the same, but the letters in front of them are "LB" instead of "SL".
Here's a helpful hint for you…
I often use Silk Lamé Braid 13 on 18 mesh canvas when I'm working a true horizontal or vertical straight stitch and my goal is to completely cover the canvas. 😉 
And finally, the medieval mosaic stitch is a fantabulous choice for stitching colorful autumn sunsets.
The stitch pattern reminds me of the clouds in the picture above. I think using a subtly over-dyed or hand-painted thread would create a stunning effect.
The Caron Collection has some splendiferous stranded silk thread options for beautiful sunset skies. Some of my favorites include Waterlilies "Peach Sherbet" (13), "Peach Melba" (21), "Santa Fe" (183), "Ethiopia" (231), and  "Tuscan Mist" (301). You can blend them with solid colors of Soie Cristale to soften the look, too. 
Okey dokey, my friend… that brings us to the end of our afternoon in the country. If you enjoyed learning a little bit about the "why" behind which stitches (and threads) you can successfully use for different design components on your needlepoint projects, I invite you to join me for my upcoming workshop, Stitch Guides Made Simple LIVE. It's happening on November 4th and you can learn more about it here. 
Have a terrific rest of your day and, until next time, happy stitching…
XOXO!