My very first needlepoint project was stitched entirely in wool. It was one of those pre-worked pieces from the needlework department at Gayfer's… the kind where you just fill in the background. Those were (and still are!) terrific projects – especially for practicing basketweave. But I have to admit, my needlepoint world changed when I tried silk threads.

Of course, I love ALL threads…
but if I have to choose just ONE type of thread for my needlepoint projects, I'm a pushover for silk! The lustrous sheen and buttery softness bowl me over every time I stitch with it. And there's nothing like those luminescent colors. Silk threads truly seem to emit a glow that other threads just don't have. And the diversity of types of silk thread makes it easy to choose just the right one for any project.
There are two types of silk thread – filament silk and spun silk.
You can purchase filament silk thread in two forms – flat or twisted.
Personally, I prefer stitching with twisted filament silk over flat silk. Flat silk has a tendency to snag more easily and it can also be quite "fly-away", making it more difficult to manage. (And who wants to fight with their thread, right?!) 

One of my all-time favorite twisted silk threads is Trebizond.
Trebizond comes in a gorgeous array of exclusive colors that you won't find in any other line of silk thread. (That's one of their claims to fame. 😉 )
You can use it directly off the spool (my preference!) or you can divide it and use it like a stranded thread. It looks similar to Perle cotton when you use it directly off the spool, but it has a higher sheen. It works very well on 18 mesh canvas.
There are oodles of options when it comes to spun silk thread.
In fact, most of the silk threads that we use in needlepoint are of this ilk. (To learn more about the difference between filament silk and spun silk, click here.)
You'll find an astounding array of choices for both 18 mesh and 13 mesh canvas designs.
For 13 mesh pieces, Planet Earth Fibers offers a yummy single strand silk thread that comes in some of the most intense colors you've ever seen.
It's very easy to use and it provides full coverage, which means that the painted design won't show through your stitches when you employ the tent stitch (either continental or basketweave). I used it to stitch Rebekah's "Veuve You More Than Bubbles" tray (that is at the finisher right now!).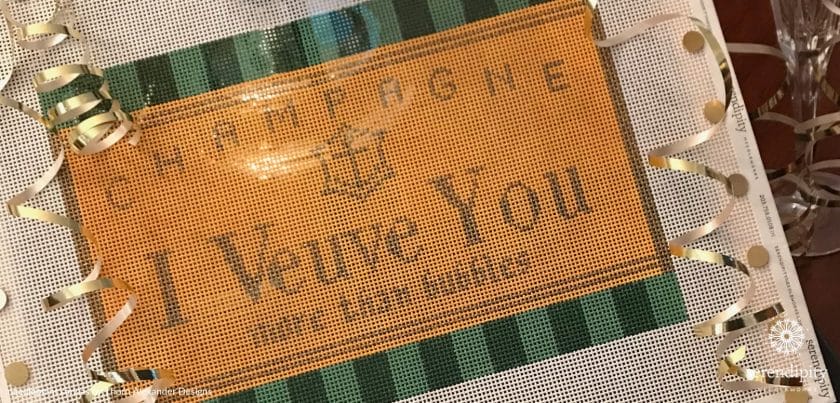 For 18 mesh pieces, single strand options are plentiful! 
Vineyard Silk Classic 

Pepper Pot Silk 

Elegance

Grandeur

You can use stranded silk thread on both 18 mesh and 13 mesh canvases.
There are several options available in this kind of silk, too…
Soie d'Alger
Planet Earth 6-Ply Silk
Soie Cristale
Needlepoint Inc. Silk
Silk Mori
But my all-time favorite silk thread is Splendor. (Cue the angel choir!) 
Splendor is a divisible silk thread from our friends at Rainbow Gallery. It comes on cards and each card holds 8 yards. You can choose the number of strands you want to use – from very light coverage, using one or two strands on 18 count, to full coverage using 6 or more strands on 13 count canvas.
I'm not sure Splendor has ever seen a stitch it didn't like, either. And there are currently 360 amazing colors for you to choose from!
If you want to "test the waters", try one of the Designer Collections. Some of my favorites include "Santa's Rosy Cheeks" and the skin tone collections, "Bronze Porcelains" and "Blush Porcelains". All of these are terrific for stitching faces and hands on pieces that feature people.
Finally, there are some stunning multicolored silk threads…
My two favorites come from Gloriana and The Caron Collection. Gloriana's Silk Floss is a dream to stitch with, but so is Waterlilies from The Caron Collection. You really can't go wrong with either one. 😉  

And before I wrap this up, here are a couple of tips for working with silk thread…
Using shorter lengths is helpful when working with silk single strand silk thread – it helps maintain the twist and your thread doesn't get as fuzzy.

When working with divisible threads, be sure to use a laying tool to keep you stitches laying flat and smooth.
So, the next time you're ready to choose threads for a canvas, be sure to consider all those splendiferous silks. I'm sure that you'll love working with it as much as I do. 
Are you on our Serendipity Needleworks NeedleNotes list? That's where we share tips, ideas, events, and cheer each other on and I'd love to have you join me, so click here to subscribe. I'll see you there! 😉
Alrighty, my friend – that's all for now.
Until next time, happy stitching…
XOXO!!

PS: There's an episode of Needlepoint TV ™ where I share even more silk thread goodness! Be sure and check it out! 😉