Claude Monet once said, "I must have flowers, always, and always."
Visiting his home and his gardens is something I'll never forget – and I'll even go so far as to say that it's one of the highlights of my life. 🙂
It still seems surreal that I was actually there two weeks ago…
Admittedly, I'm smitten with the whole place and I'd love to try my hand at re-creating a small section of his garden in my back yard. The arrangement of the plants is a sight to behold – the likes of which I've never seen anywhere else. It'll take a while for me to plan it all out, so whaddya say we take a peek at this month's blog theme in the meanwhile?
Can you guess what it is?
Why, flowers, of course! It is May, after all. 😉
Before we dive into the stitch I'm gonna share with you today, I thought it might be fun to share a few pictures from Giverny. Sound good? Terrific!
Here's the Water Garden…
See that bright pink spot of color on the left side of the picture? It's an azalea! That familiar sight – along with the wisteria – made me feel right at home.
The pond isn't as large as you might imagine – and there are two Japanese bridges. If you'd like to take a virtual stroll around the water garden, click here.
Below is one of Monsieur Monet's paintings…
Wouldn't it be fun to stitch? My mind is reeling with the possibilities!
There are oodles of ways that flowers show up on needlepoint canvases.
From small splotches of color like those you see on "Lydia Lane" by Sandra Gilmore…
to large blocks of hue on Jean Smith's design.
And everything in between – like this lovely piece called "Fleurs de Paris" by Once in a Blue Moon Designs…
Here's a decorative stitch that you might consider using for clusters of flowers…
The Paris stitch!
The Paris stitch is easy to execute. Just follow the diagram below and you'll be golden!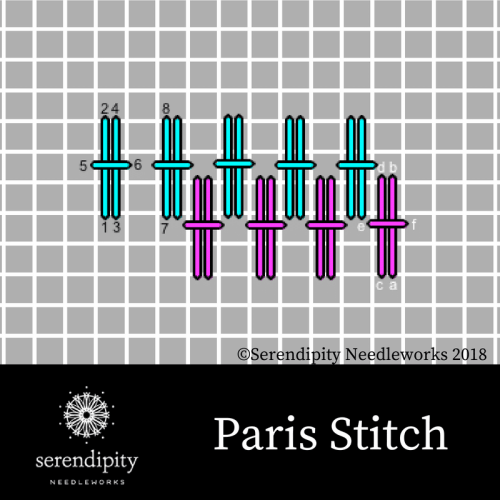 Begin at the top left edge of the area that you want to cover and work to the right. Then, stitch back across the canvas from right to left. The blue row on the stitch diagram represents row number one and the pink row represents row number two. Repeat those two rows until you've covered the desired area.
Use tonal over-dyed threads to create especially striking flowers.
The subtle shifts of color in the thread will do all the shading for you. Some of my favorites from Threadworx include:
Wine Castle (10051)
Cherries (1005)
Grapes (10241)
Fine Wine (10382)
Coral Renaissance (10960)
Lemon Ice (1109)
Legacy (1128)
Week's Dye Works also has some luscious tonal cotton embroidery threads that would be lovely choices.
What's your "go-to" thread for stitching flowers? Tell me in the comments box below. I'd love to hear from you and I read every single one of your notes.
Well, it's time to whip up something for dinner, so I'll close for now. Have a lovely day and I'll see you here again next week!
XOXO!!! ❤️
PS: Check out my stitch suggestions for other "springtime" design components like grass, trees, and clouds. 🙂