Can you believe it? It's almost time for a new Threadventure!
This one is gonna be even better than the last one, too. The 2019 Winter Threadventure is chock full of exciting new threads and stitches – and I can hardly wait for it to begin!
Grab your favorite cuppa and I'll tell you all about it…
Oh – and if you're new to the Serendipity family, click here to read about our very first Threadventure.
Now, back to our brand new Winter Threadventure…
In case your memory is a little fuzzy, Threadventures are virtual needlepoint adventures all around the world – with me as your guide. I take you to fun and exciting destinations where we explore different thread and stitch combinations related to the places we visit.
And the best part?
You can use those thread/stitch combinations on your very own needlepoint canvases.
So. Much. Fun! Right?!
I know – it gives me goosebumps just thinking about it!
Wondering where we're going first?
I thought you might be… and I know you're gonna L-O-V-E it!!! I'm so enamored with it that I'm absolutely over-the-moon.
Of course, we're in the middle of winter – at least in the northern hemisphere – and I thought it might be fun to take a trip to someplace snowy.
Since I live in Alabama, I don't get to see snow all that often. In fact, it's a real treat for me.
If you happen to live in a place where snow in the wintertime is the norm, I hope you'll humor me. I promise to make this a super-fun Threadventure that'll make you smile when you see all that snow outside your window.
Lots and lots of "hygge" – pinky promise!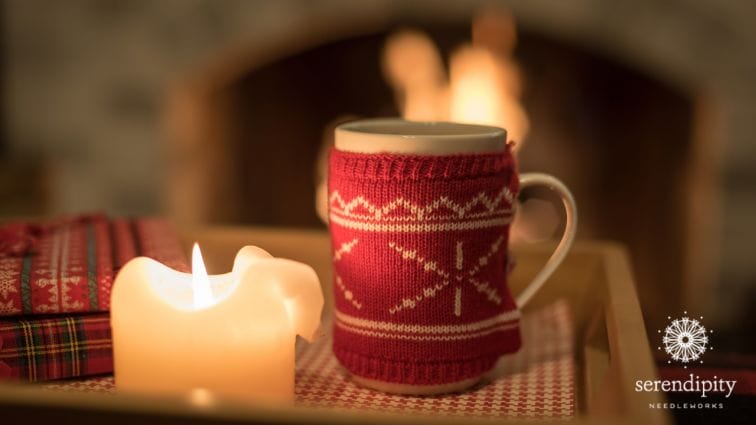 Alrighty – now that you know we're going someplace cold…
I'll go ahead and spill the beans. We're going to Scandinavia!
Yep – Norway, Denmark, Sweden, and Finland!
And this time, I've curated a special set of threads just for our snowy sojourn.
It includes everything from luxurious silk and hand-dyed cotton to sparkly and fuzzy novelty threads. I'm pairing threads with stitches that match design components you might find on some of the canvases in your stash, so get ready to create an invaluable resource notebook that you can refer to again and again.
I can't think of a better time than the beginning of a new year to add some brand new stitch ideas to your repertoire.
But things are a little different than the last time we hit the road…
Instead of sharing everything here on the blog, there's a special portal for you to access all of the goodies that go along with your Threadventure.
Why is there a portal? That's a terrific question – and it's because not everyone will have access to all of the content.
You see, last summer, I darn near worked my little ole fingers to the bone and, after a lot of soul searching, I decided that I just couldn't do it again. (Especially now that I'm trying to take better care of myself. I really wanna get off that blood pressure medicine in 2019.)
So, what's the deal?
In order to get the complete 2019 Winter Threadventure experience, you need a Threadventure Passport. Your Passport includes a new itinerary each week for seven weeks.
Each itinerary features at least four stitches and threads that go along with that week's location – and every single stitch/thread combination has been carefully curated just for you.
There are options for all skill levels – and I guarantee you'll learn at least one new something that you can apply to your needlepoint projects.
And in addition to the multitude of stitch and thread combinations that you're gonna get, I'll also be hosting a Private Tour of each destination in our Travel Lounge (a.k.a. private Facebook group) each week. And don't worry if you can't join me LIVE. I'll record each Tour for you and post it in your portal so you can access it at your convenience.
Here's our schedule…
We'll kick things off with our Bon Voyage Party inside the Travel Lounge (private Facebook group) on January 3rd. Then, we'll make our first stop on January 8th. We'll continue on our adventure with a new stop every Tuesday through February 19th. Dates for the Private Tour of each destination will be posted in the Travel Lounge.
I'll bet you're wondering how much a Winter Threadventure Passport is, aren't you?
Well – get ready to hold onto your hat because it's a steal!
First of all – it's FREE for members of The Stitcher's Club!
But if you're not a member of The Stitcher's Club, you can get a full 2019 Winter Threadventure Passport for just $47.
Let's break that down – that's 6 7 weeks of needlepoint lessons that you can take in the comfort of your own home for just $6 per week. Heck – that's less than $1 a day!
And the lessons are yours to keep forever.
All you need is an internet connection, a device to log in on, and Voilà – you're all set! (The portal can be accessed from a laptop or desktop computer, a tablet (like an iPad) or your smartphone. Pretty cool, huh?!)
Ready to get your Passport?
What's that? It's not in your budget?
I understand. Really – I do. I know all about trimming expenses and operating on a budget.
Hey – I have an idea! Why don't you add it to your Christmas list? I'm sure there's somebody who'd just love being able to see a bright and happy smile on your beautiful face this Christmas morning.
Just show them this link right here and let them be your Santa Claus! 
And as my holiday gift to wonderful Y-O-U…
even if you don't join me for the full experience, you'll still get one stitch/thread combination that you can use on your projects here each week from January 8 – February 19.
Now, here's a list of what to "pack" for our Threadventure…
13 mesh needlepoint canvas with edges bound (1 or 2 8″ x 8″ pieces)
18 mesh needlepoint canvas with edges bound (1 or 2 8″ x 8″ pieces)
size 22 tapestry needles
size 24 tapestry needles (optional)
needle minder (recommended)
stretcher bars (I use 8″ x 8″ bars for my doodle canvases.)
tacks
scissors
laying tool
Fray Check or a Thread Zap
Table/lap/floor stand (recommended)
Magnification device (optional)
Light (optional)
2019 Winter Threadventure Threads* or threads from your stash
*And if you don't have a local needlework shop where you can get supplies, you can send me an email. Just click here and let me know that you're interested in joining the fun, but that you need info on ordering supplies from Serendipity Needleworks. I'll be happy to help you.
Keep an eye on the Serendipity Needleworks Facebook page for updates.
Please share this post with your friends that might like to join us – the more the merrier! All you have to do is click that little Facebook icon (it's the circle with the "F" in it – under my signature and over to the right side of the page).
And be sure to type "I'm IN!" in the comments box below if you're planning on joining the fun.
Until next time…happy stitching!
XOXO!!!

PS: Click here to get your 2019 Winter Threadventure Passport now!
PPS: Are you on our Serendipity Needleworks NeedleNotes list? That's where we share tips, ideas, events, and cheer each other on and I'd love to have you join me, so click here to subscribe. I'll see you there! 😉