Choosing needlepoint threads for a painted canvas is one of my favorite things about stitching. But if you're a newer needlepointer, or if you've been away from our favorite hobby for a while, or if you don't live near a local needlework shop, you might find the process a wee bit overwhelming. The sheer number of new threads on the market today can make even an experienced stitcher's head spin. Let's take a peek at some of the most popular needlepoint threads and how you can use them on your projects.
When choosing needlepoint threads for a project…
the first thing to consider is how you plan to "finish" your canvas. In other words, is it going to be strictly an ornamental piece, like a pillow for the guest room bed? Or will it be something you'll use or wear frequently, such as a belt?
Fancy threads (think silk, sparkle, etc.) are fine for pieces that are purely for show, but you'll want to choose sturdier threads, like wool, for items that will receive a lot of use or handling. And because threads have varying degrees of durability, you need to know the fiber content of the needlepoint threads that you're using on your project. (Thread manufacturers usually include that information on the label.)
Needlepoint threads typically fall into one of four main categories:
The traditional needlepoint thread is wool.
Granny (my grandmother who taught me to stitch) used DMC tapestry wool on all of her needlepoint projects – and that's what I learned to stitch with, too. It's a terrific thread and it works very well on 10 mesh canvas. Wool is very durable, so it's the perfect choice for belts, purses, shoes, pillows, rugs, and other items that will get a lot of heavy use.
If your canvas is 13 or 14 mesh (meaning that there are 13 or 14 stitches in a linear inch), you might consider using Appleton Tapestry Wool, Rainbow Persian, or Waverly Wool. Appleton is a single strand wool thread, so it's super easy to use. You'll need to use more than one strand of Rainbow Persian on your canvas if your goal is full coverage of the canvas, though. And the same holds true for Waverly Wool. Waverly Wool is a divisible thread, so you'll need to strand it. And remember to use a laying tool whenever you're working with more than one strand of thread in your needle.
If your canvas is 18 mesh (18 stitches in a linear inch), you have a TON of options! Some of my favorites include Planet Earth Merino Wool, Vineyard Merino Wool, Rainbow Persian, Waverly Wool, Appleton Crewel Wool and Bella Lusso. When stitching on 18 mesh canvas, you can use a single strand of Planet Earth Wool, Vineyard Merino Wool, Rainbow Persian or Waverly Wool.
Crewel weight wool is very thin, though, so you'll definitely need to use multiple strands in your needle. That means using 2 – 3 strands of Bella Lusso or Appleton Crewel Wool. Of course, you may increase or decrease the number of strands that you use to achieve the kind of coverage you like. 🙂
Not sure what "stranding" means?
It's where you separate the individual strands of a divisible thread, then put them back together again and thread the number of strands you need into the eye of the needle. You'll use different numbers of strands, depending on what kind of thread it is AND the size of the canvas mesh that you're using. You may choose to use fewer strands for light coverage – to let some of the artist's design show through. Or you can increase the number of strands in the needle to get full coverage so that none of the canvas shows through.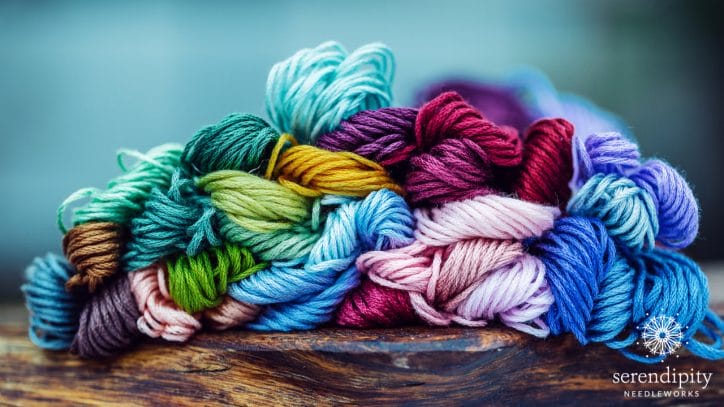 Cotton is a good option for your canvases.
Cotton threads are quite durable, though perhaps not as durable as wool. And cotton needlepoint threads come in an amazing array of colors, too.
One of my favorite cotton threads is pearl cotton #5. It's especially good for beginning stitchers since it's a single strand thread. So, what size mesh canvas can you use pearl cotton #5 on? It provides full coverage on 18 mesh canvas, but if you want a little bit of the artist's design to peek through, you can use it on 13 or 14 mesh canvas.
Pearl cotton #3 is the thread to use if your project is 13 or 14 mesh canvas. Admittedly, I'm not as big a fan of pearl cotton #3 because I need a laying tool to make it behave like I want it to, but give it a try. You may L-O-V-E it!!
And finally, six strand embroidery floss is a beautiful cotton thread that may be used quite successfully in needlepoint on 13, 14, AND 18 mesh canvas. It does require special treatment (stripping strands apart, putting them back together, and using a laying tool) in order to get it to lay down smoothly on your canvas, though.
DMC is my "go-to" thread when I want to use a solid color of cotton thread on my canvas. And if you want to use a multi-colored cotton thread, you can't go wrong with Watercolours or Wildflowers from The Caron Collection, Overdyed Cotton Floss and Pearl Cotton from Weeks Dye Works, or Overdyed Cotton Floss or Overdyed Pearl Cotton from Threadworx.
Silk thread has a lustrous sheen that is unparalleled.
Pure silk thread is a dream to work with, but it can be less durable than wool or cotton thread. That means you really must consider how your project will be finished before you settle on using silk thread. Yes, silk fiber is very strong, but it's not as easy to clean as wool or cotton. It's also more expensive than wool and cotton needlepoint threads. And it can have a tendency to snag if it brushes up against something rough.
If your heart is set on using silk (and I don't blame you if it is!), you'll need to decide which kind of thread to use.
Silk thread is available in two main forms: twisted silk and divisible silk.
Some examples of twisted silk thread are Pepper Pot Silk, Vineyard Silk Classic, Trebizond, and Planet Earth Silk. I like to use Pepper Pot Silk, Vineyard Silk Classic, and Trebizond on 18 mesh canvas. Planet https://www.serendipityneedleworks.com/needlepoint-tips-silk-thread/Earth Silk is considerably thicker, so it works best on 13 or 14 mesh canvas. Stitching with twisted silk is a lot like stitching with pearl cotton, since it's a single strand thread. It's easy to use and is a terrific option for newbie silk users.
Divisible silk threads, such as Splendor and Soie d'Alger, can be a little more challenging to manage. While spun silk is easier to work with than filament silk, all divisible silk threads require stranding. Splendor is a very good "first" option because it behaves very much like DMC six-strand cotton embroidery floss. If you're working on 13 or 14 mesh needlepoint canvas, you'll want to use 6 – 8 strands to cover the canvas entirely. And if you're working on 18 mesh canvas, 4 strands should cover nicely.
Remember – all divisible silk threads should be stranded and you'll need to use a laying tool to ensure that your stitches lay smoothly on the surface of your canvas.
Novelty needlepoint threads can add oodles of pizzazz to your projects!
They come in an assortment of textures and finishes. If you're looking for sparkle, you can't beat Kreinik metallic braids! And Rainbow Gallery has some lovely twinkly threads, too: Entice, Glisten, Silk Lamé Braid, Fyre Werks, Frosty Rays/Petite Frosty Rays, and Sparkle Rays, to name a few.
Fuzzy threads create amazing textures on your projects and, again, Rainbow Gallery has some amazing offerings. Very Velvet/Petite Very Velvet, Fuzzy Stuff, Fluffy Fleece, Arctic Rays, Rainbow Angora, and Alpaca 18 are a few of my favorite novelty needlepoint threads in their product line.
Each of these threads has its own properties that you'll need to assess individually before using any of them on a project. Thankfully, Rainbow Gallery provides use suggestions, including number of strands for the different sizes of needlepoint canvas, on their thread cards.
I'm hosting a new workshop later this month that's all about choosing stitches and threads for your needlepoint projects. You can learn more about it here.
Alrighty – that's all for now, my friend! Thank you ever so much for popping by for a visit. Have a terrific rest of your day and I'll see you again next week…
XOXO!