The summer travel season is upon us here in the US – and after two years of hunkering down, I'm ready to do some stitching on the go! So let's take a peek at some of my favorite tips for traveling with your needlepoint projects…
The first thing to consider is what kind of traveling you'll be doing.
Are you jetting off to some exotic location? Or will you be cruising the highways and byways in your car? Will your time away be an excursion with a carefully planned itinerary or will it be a carefree vacation?
The answers to all of these questions will help you determine the kind of project to pack.
If your stitching on the go includes air travel…
the Transportation Security Administration (TSA) will tell you what you can (and can't!) take on board. In fact, when you search for "scissors" on their website, you'll see an entire list of approved cutting devices.
And while we're on the subject of scissors, I recommend leaving your favorite pair at home when you take your stitching on the go. Not only do you eliminate the risk of having them confiscated by a cranky TSA agent, you also won't accidentally lose them.
Super Snips work very well and I've never had them taken away. (That's them in the picture below… aren't they cute?!)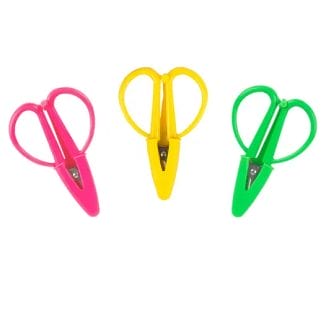 Here are some suggestions for traveling with your needlepoint on an airplane:
Stick with small projects. For example, Christmas ornaments, bookmarks, belts, eye glasses cases, etc. all make terrific "plane projects". If you're like me and you work on a frame, keep the frame size to 10″ x 10″ – or smaller. (Airplane seats can be very snug, especially when you start stitching.)
If your flight is going to be a long – or require multiple layovers – consider packing two or three small projects in your carry on to prevent boredom from setting in. 😉
Domestic flights typically allow scissors with blades smaller than 4″, but international flights are anybody's guess. It truly does depend upon the country you're traveling to and the security agent on duty. S0 – it's a good idea to pack a pair of nail clippers in your bag. You can use them to cut your threads in a pinch.
Pack an extra pair of scissors in your suitcase.
When stitching with solid colors, you can pre-cut your threads. I recommend cutting the pieces between 15″ and 18″ long.
I like to use Floss-Away bags to store my threads. And I keep up with all of the threads for a single project by putting the Floss-Away bags on a binder ring. (See the picture below.)
Use zippered project bags to keep all of your supplies together – and don't forget to check the seat back before you disembark. The last thing you want to do is leave your project on the airplane. 🙁
If you have the opportunity to pre-select your seat and you're a lefty, try to snag an aisle seat. And if your right hand is your dominant stitching hand, opt for a window seat.
If you're traveling with your needlepoint, but you plan to go by car…
you really can take whatever you want, as long as it fits in your vehicle. But you want to be realistic, too.
Ask yourself these questions:
Can I stitch in the car? (If the answer is yes, what kinds of projects can you most easily work on in the space you'll have available?)
How much stitching time will I really have on this trip?
Will I have time to stitch once we reach our destination? And even more importantly – will I want to stitch when we get to where we're going? (If the answer is yes, where will you be when you're stitching? On the porch of a cabin? On the beach? In a camp chair under the trees?)
And then, plan accordingly. Remember – it's better to take simple projects that don't require a lot of paraphernalia when you're traveling.  In other words, leave the stocking on a scroll frame that requires a stand to stitch at home unless you're headed to a condo at the beach for a couple of weeks.
"Car projects" can be a wee bit larger than those you can comfortably work on in an airplane…
but I still like to keep it simple. Some of my favorite "car projects" include small pillows or pieces that will be framed, belts, Christmas ornaments, etc. Again, anything that isn't too cumbersome.
I tend to avoid projects that require the use of a laying tool if I'm traveling by car. And 13/14 mesh canvas (or larger) is easier for me to see while I'm moving down the highway. I save the beading for at home, too. Nothing will kill your needlepoint mojo quicker than spilling an entire container of seed beads in the floorboard of the car… speaking from experience! 😉
Other Tips for Stitching on the Go
Download audio books and/or episodes of your favorite podcasts before you leave so that you have something to listen to while you are stitching. (Or make a playlist of your favorite tunes to stitch by.)
Google "needlepoint shops in…" (wherever you're going) and add them to your itinerary. You never know when you might find a new shop to add to your list of favorites.
Take extra packages of needles. I usually take a couple of packages of #22 tapestry needles with me when I travel. I keep one in my main tool bag and one in my purse (or backpack, if I'm flying).
Take two or three small projects instead of one large-ish one. You can rotate them as your travel circumstances change.
Put together a small transparent/translucent zippered tool pouch so that you can keep all of your essential tools in one convenient place. Include extra needles, a needle threader, Super Snips (or scissors), and a tape measure. If you're traveling by car, you can add a needle minder, a Stitcher's Best Friend, and any other gadgets that you like to use when stitching.
Oh – and don't forget your readers and a travel light (or your CraftOptics glasses, if you have them).
And there, my friend, you have it… tips for taking your stitching on the go. If you have some helpful hints you'd like to share, please post them in the comments below. I love hearing from you!
Have a terrific rest of your day and until next time… happy stitching! 🙂
XOXO!!