Is your needlepoint canvas all wonky when you finish stitching it? Do you struggle with blocking? Are you having a hard time making your decorative stitches look like the pictures you see on Facebook? It might be time for stretcher bars!
Just about every single day, stitchers (of all skill levels!) ask me… 
if I always use a needlepoint frame. And the answer is, "Almost always, YES!"😀 
In fact, it's a very rare occasion that I DON'T use one. So, today we're gonna chat a little bit about stretcher bar frames.
First, let's talk about just exactly what stretcher bars are…
Simply put, they are lightweight wood frames for your needlepoint canvas that keep it straight and taut as you stitch. 
Stretcher bars come in pairs and you need two pairs to make yourself a frame. 
The pieces fit together with a simple dovetail joint. Sometimes they slide into place quite easily – and other times I need to use my trusty hammer to get them nice and tight. 😉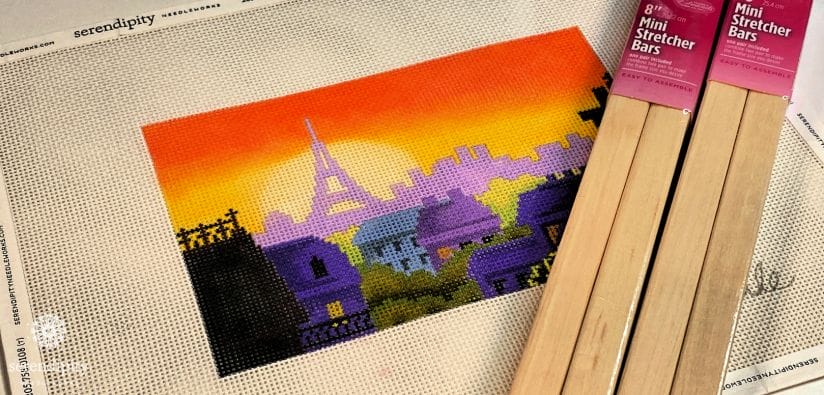 You can find them at your LNS (Local Needlework Shop) or their websites, and even on Amazon. 

There are two types of stretcher bars… 
Mini stretcher bars are ½ inch thick. I use them on smaller projects that you can hold in your hand. 
Regular stretcher bars are ¾ inch thick. I prefer to use the regular size bars for larger canvases since they're a wee bit sturdier. 
Stretcher bars come in an assortment of lengths. Minis range in size from 5" all the way up to 18". And regular bars are available in lengths from 5" up to 28". (The length of both kinds increases in 1" increments.) 
Both types of stretcher bars will fit in needlework stand clamps like those you'll find on the Needlework System 4 Tabletop and Floor Stands and the Lowery Work Stand. 

I'll bet you're wondering how to choose which size of stretcher bars to use, aren't you? 
First, you'll need to measure your canvas along the outer edges to determine the width and the height of the piece.
(If your canvas ends up measuring an "odd" size, don't worry. We'll talk about that next week. 🙂 )
Now, let's look at a couple of examples… 
If your design is a 4-inch round ornament and your canvas measures 6"x6", you will need two sets of 6-inch stretcher bars (remember – you need a total of 4 bars 😀).
And if your canvas measures 8" x10", then you'll need a set of 8 inch bars and a set of 10 inch bars.
Make sense? Terrific!!

Now – you're ready to assemble the bars into a frame! 
So head on over and watch this episode of Needlepoint TV™ where I'll show you how to put a stretcher bar frame together.
But before you go, I'm curious…
Do you use a frame when you're stitching? 
Tell me in the comments below – I L-O-V-E hearing from you and I read every single note you leave for me.
Alrighty – that's all for now, my friend.
Until next time, happy stitching…
XOXO!!

PS: Be sure to check out our Needlepoint TV™ episode that's all about putting a stretcher bar frame together.