Why use wool needlepoint thread when there are so many other interesting options available to today's stitchers? I believe it can be summed up in two words: durability and color.
Here are three of my all-time favorite wool needlepoint threads…

Vineyard Merino Wool
Vineyard Merino is a single strand 100% wool thread from Wiltex Threads. It's made from the fluffy fleece of Merino sheep.
Wondering what makes Merino wool so special? Well, it's incredibly soft and that makes it absolutely dreamy for stitching. It's not scratchy (i.e., "itchy") at all. I'm sensitive to wool clothing (as in I don't wear it unless it's lined) and I can work with Vineyard Merino for hours on end. 
Vineyard Merino comes in a skein and there are 30 yards/27.4 meters on each skein. It is not a divisible thread, which means that it's a terrific choice for stitchers of all skill levels. And its tight twist makes it an incredibly durable wool needlepoint thread – the perfect choice for belts, purses, shoes, key fobs, wallet inserts, pillows, Christmas stockings, etc. 
The last time I checked, there were 241 gorgeous solid colors of Vineyard Merino available. And here's an interesting side note for you… if you're looking for multicolored wool needlepoint thread, Threadworx uses Vineyard Merino as their base thread for their Hand Overdyed Wool. 
You may use Vineyard Merino on both 13/14 and 18 mesh needlepoint canvas. (It's about the same size as #5 pearl cotton.) And even though it may be hard to believe that Vineyard Merino provides good coverage on both 13/14 mesh and 18 mesh canvas, it does – because the loft of the wool fluffs out to fill the holes of 13/14 mesh canvas. (Just another perk of using wool thread. 😉 )
When working with Vineyard Merino Wool, cut your pieces of thread approximately 18″ long and drop your needle every 5 – 7 stitches to allow the thread to recover its twist. (That little trick will also prevent the thread from getting kinks in it while you are stitching.) 
Planet Earth Merino Wool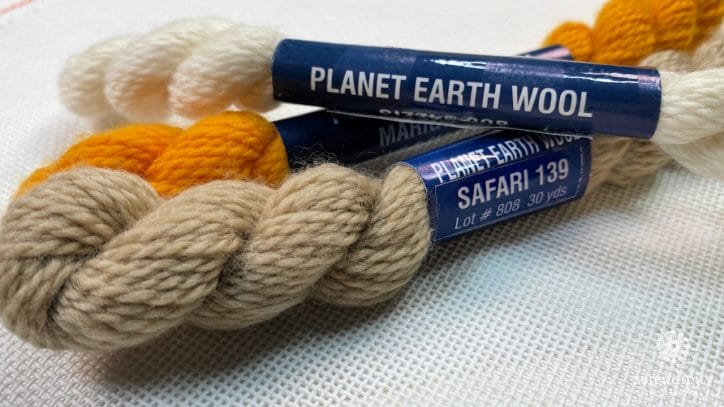 Planet Earth Merino Wool is a non-divisible single strand 100% wool needlepoint thread from Planet Earth Fibers. It, too, is made from the fleece of Merino sheep. It comes in a skein and there are 30 yards/27.4 meters in each skein.
There are currently 175 deliciously rich solid colors and the palette coordinates perfectly with Planet Earth Silk and Planet Earth 6-Ply Silk. You may use Planet Earth Merino Wool on 13/14 and 18 mesh needlepoint canvas. One strand covers very well on 18 mesh canvas. When I'm working on 13/14 mesh canvas, though, I find that 2 strands works better – especially if I don't want any canvas to peek through.  And regardless of whether you use one strand or two, your pieces should be no longer than 18″. 😉 
When using two strands, be careful to maintain control of your thread tension – and use a laying tool. Planet Earth Merino Wool is very sproingy, so if your tension is too loose, your stitches will look bulky. 
Planet Earth Merino Wool is the perfect wool needlepoint thread for "wearable" needlepoint projects, as well as pillows, Christmas stockings and ornaments.
Bella Lusso Merino Wool
Bella Lusso is 100% merino wool crewel weight embroidery thread. You may use it for both embroidery and needlepoint. It is especially effective when adding delicate details such as eyelashes, animal whiskers, clothing embellishment, etc. 
Bella Lusso comes in 45-yard skeins and 350-yard hanks. There are currently 154 luscious colors available and the range of hues for shading is quite nice. 
I prefer to use Bella Lusso on 18 mesh needlepoint canvas because it is so light weight. Use 2 – 3 strands when your goal is to completely cover the canvas, and, as always, pieces should be no longer than 18″. 
Bella Lusso is ahhh-mazing for Christmas ornaments and stockings, pillows, stand-ups, picture frames, tray inserts, bookmarks, etc. And yes, you can use it on wearables, too, but Vineyard Merino Wool is going to hold up better for those kinds of items. 🙂
Wool needlepoint thread is always a good option.
In addition to its durability – and the fact that there are oodles of colors – wool needlepoint thread is a "winner winner chicken dinner" for these reasons, too…
It has antimicrobial properties that make it mildew/mold resistant. 

Since wool is essentially just the regrown hair of an animal, it is entirely sustainable.

It is fire resistant. Each and every wool fiber retains a certain amount of air moisture, even wool that's several years old.
So, the next time you're ready to buy threads for a canvas, remember – you can't go wrong with classic wool needlepoint thread. 🙂 
Alrighty, that's all for now, my friend. Thank you for stopping by for a visit – and be sure to hop over and watch the episode of Needlepoint TV™ that goes along with this blog post over on our YouTube Channel. 
Until next time, happy stitching…
XOXO!!